Books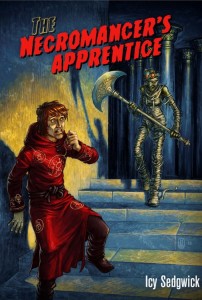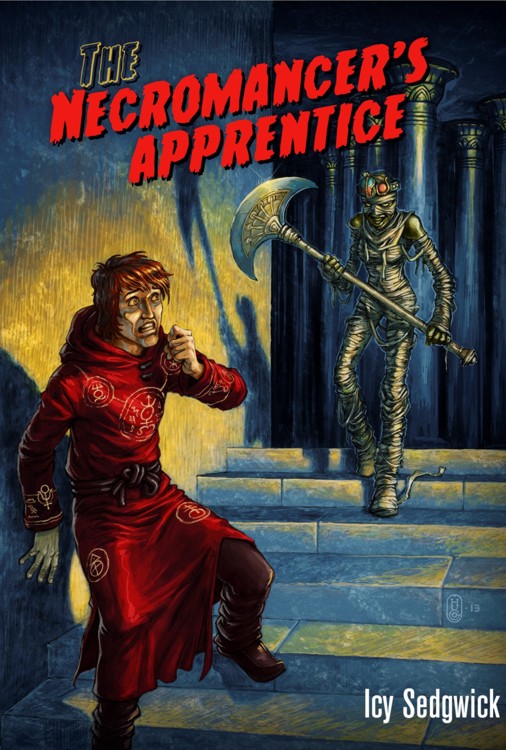 Mummies, mayhem and magic!
Jyximus Faire lives in a crumbling tenement in the Underground City and he daily escapes the squalor to attend lessons in magic and sorcery at the prestigious Academy in the City Above. But the pace isn't fast enough for Jyx. He wants to learn everything – and he wants to learn it now.
The dread necromancer general Eufame Delsenza sets her sights on Jyx; she needs a new apprentice and Jyx fits the bill. When she tasks him with helping to prepare royal mummies for an all-important procession, he realises this might be a chance of a lifetime.
Will Jyx's impatience lead to him taking his education into his own inexperienced hands, and can a necromancer's apprentice really learn to raise the dead – and control them?
"I really enjoyed this little book. The story sucked me right in, with the crisp non-flowery yet imaginative descriptions, the charming dialogue and Jyx's juvenile clumsiness. In fact, I'd say this was the best book I've read this year. Recommended for fans of Harry Potter, Disney, classic horror movie buffs, and children of middle-to-old ages" – 5*
Order : Amazon | Kobo | iBooks | Nook | Smashwords
---
Sometimes there is more than one bullet with your name on it…
The search for a murderous outlaw has brought the long roving Grey O'Donnell near to his hometown of Retribution, Arizona.
Bounty hunters might not be popular but old fashioned manners, kindness to regular folk and a face for the ladies make Grey an exception when he rides into town.
Grey has a job to do, upholding the law when others won't, like the odious Jasper Roberts who has made himself Sheriff of Retribution and who has a personal score to settle with Grey.
"I loved this story so much. Grey is an endearing, strong, yet vulnerable character that goes through the full spectrum of emotions in this Western. The details are well-researched and Icy has a way of setting the reader firmly at the scene as if it's unfolding before them. For such a small cost, you can't afford to let this sort of unusual reading experience pass you by." – 5*
Order : Amazon.
---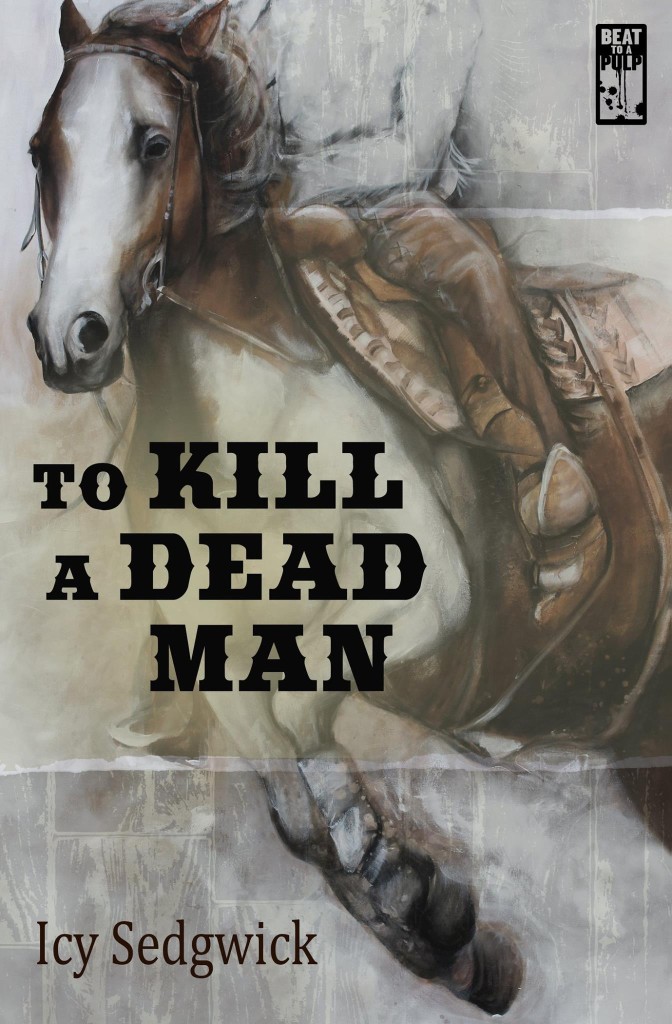 The West can be weird as well as wild
Grey O'Donnell is back to normality after the events in Retribution six months before. He and partner Billy Cole are hunting down a fugitive with a large price on his head, and what should have been a routine job takes a turn for the weird when they follow the trail to an abandoned mining encampment.
Something unnatural lurks in the trees near Bentley, and when the living dead pay a visit to the town, Grey enlists the help of a Ute medicine man to fight them off.
Trouble is, the love of Grey's life has gone missing, and he's not about to lose Peggy a second time.
"Icy tells a great tale. I have read a number of her books and short stories and I follow her blogs. In To Kill a Dead Man she places Grey O'Donnell in some classic Western scrapes…and some that are not so classic…all of which lead to a fun and engaging read. I read it in two sittings – two ends of my daily commute – and now I am going to re-read Guns of Retribution and Dead Man's Hand because I've rekindled my love of Westerns!" – 5*
Order : Amazon.
---
Quirky dark tales for your morning commute
Harbingers: Dark Tales of Speculative Fiction contains fifteen tales of the weird and wonderful, spanning dark fantasy, horror, sci fi and speculative fiction. Just as my blog aims to be a 21st century Cabinet of Curiosities, so Harbingers has plenty to satisfy fans of strange tales.
If you like Neil Gaiman and Ray Bradbury, then Harbingers is for you!
A washed-up actress tries to prolong her youthful pact with a Greek goddess in a hotel bathroom.
A porcelain woman awaits the return of her maker on a lonely rooftop.
A Resurrection Man reconsiders his career choice when things don't go to plan.
Two technicians discover more than they bargain for when they put an Egyptian sarcophagus in a CAT scanner.
The collection also includes the pulp adventure tale, 'One Woman Cure', and a Grey O'Donnell ghost story, 'A Christmas Ghost Story in the West'. You can buy Harbingers from Amazon for $2.99 OR get a complimentary copy when you join my mailing list!
Get your free book of short stories!
"Creepy mummies, ghosts, ghouls, and the paranormal" ⋆ ⋆ ⋆ ⋆ ⋆
"Icy Sedgwick's tales unfold in quick succession, each one painting a picture of a different reality. A delightful journey through phantasmagorical realms of storytelling. The author has a great command of horror themes and uses them to great, and often surprising effect" – 5*
---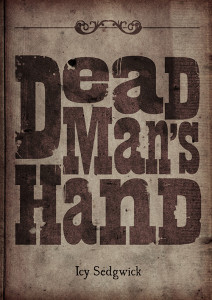 "You got the Dead Man's Hand, son."
A collection of three interwoven stories surrounding the infamous Dead Man's Hand of cards.
In Part I, Edmund Rothers encounters a gambler with a grudge in nineteenth century Kansas. In Part II, one of his descendants discovers the perils of online gambling in the twenty-first century. In Part III, a legendary gunslinger learns the true extent to his legacy.
The collection also includes the first chapter of the pulp Western novella, The Guns of Retribution, as a sample read.
"If you like Westerns, or ghost stories, or both, this short piece will be a great way to spend some time." – 4*
Order : Amazon | Kobo | Nook | iBooks | Smashwords
---
Get your dose of weirdness
Checkmate: Tales of Speculative Fiction collects together fifteen stories, spanning fantasy, horror, sci fi and other weird genres.
A devilish game of chess goes apocalyptically wrong.
'Bleed Them Dry' puts a new spin on vampires.
Talking corpses tell their side of the story.
A little girl is fascinated with an antique that hides a dark side.
"Reminiscent of both Gaiman and Collier, Sedgwick blends irony, fantasy, and horror together with a skilled hand. Her characters are real and beliveable, which makes it all the more enthralling reading the situations she puts them in. Worth every penny and then some — read this book!" – 5*
Order : Amazon | Kobo | iBooks | Nook | Smashwords.