Tynemouth Castle & Priory stand on a lonely promontory intruding into the savage North Sea. But local legends claim a mysterious Wizard's Cave lies hidden in the cliffs below the ruins.
Scholars believe Edwin of Northumbria founded Tynemouth Priory in the early 7th century. And tales abound of ghostly monks loitering among the ruins. But we're not looking for ghosts this week. Oh no – we're in search of treasure.
Where is this Wizard's Cave then?
Legends tell of underground passages, or possibly dungeons, below the Castle and Priory site. Among this network lies a cave, often known as Jingling Geordie's Hole, Jingling Man's Hole or the Wizard's Cave. The entrance apparently lay at the north side of the priory, facing King Edward's Bay.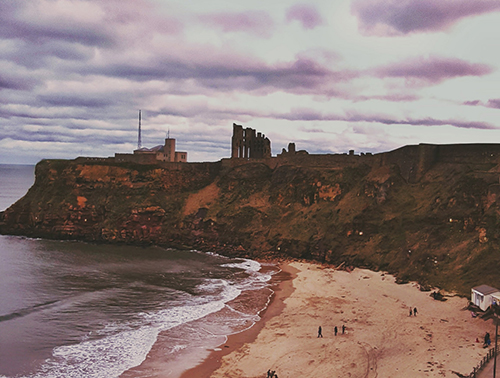 Some believe a wizard, or an old man, lived in the cave. He made strange clanking noises at night when he prowled the area.
But other historians explain that Jingling Geordie was a 17th-century pirate and smuggler. The cave provided a handy lookout spot for incoming ships. Apparently, he still had fetters on his legs and the rattling chains accompanied his every move.
Arise, Treasure Hunter
Long before Jingling Geordie's day, a famous and brave knight named Walter the Bold travelled to Tynemouth. He'd heard the tales of a mysterious cave, filled with treasure guarded by dragons and demons.
This cave had an arched doorway leading to two chambers. One of them had a hole 12ft deep leading to 2 small vaults.
So Walter clambered down to the cave during the night, armed with a sword and a lamp. He pushed his way along a narrow passage. Almost immediately, demons and other inhuman spirits attacked him from all sides.
Being a brave knight, Walter struck out with his sword. He pushed his way further into the Wizard's Cave. But the demons pursued him to the edge of a yawning gap. Seeing its depth, he cursed. Could he make the jump?
He took off his heavier armour – presumably, the demons waited patiently while he did so. Walter said a quick prayer and leapt across the gap. He scrabbled to safety on the far side, leaving the demons stuck behind him.
Walter followed the passage to a huge door. A bugle hung on a golden chain beside it. Walter snatched up the bugle and blew three long, loud blasts. A magic cock crowed and the door burst open.
Beyond the door lay a vast chamber. Twelve golden lamps hung on twelve crystal pillars. Piles of gold, silver, and precious gems gleamed in the low light.
"It may not be sung what treasures were seen,
Gold heaped upon gold, and emeralds green,
And diamonds, and rubies and sapphires untold
Rewarded the courage of Walter the Bold"
M. A. Richardson, The Local Historian's Table Book, Vol. 2., 1844, p395
What happened to Walter the Bold?
The legend doesn't explain how he got back out, or how he took the treasure with him. But he apparently managed to do both, becoming a rich lord. He owned a hundred castles and ran their vast estates. He also founded a monastery and married a beautiful princess.
Or did he?
Other legends say that the caves were haunted, filled with the sounds of moans and chains being dragged. Some believe it was intended to frighten anyone so they wouldn't follow Walter's example. But perhaps Walter didn't make it out alive?
Or perhaps it's just Jingling Geordie, scaring people away from his lookout spot.
A landslip destroyed the cave's entrance in the 1880s. Some believe the treasure remains hidden in the undiscovered passages beneath Tynemouth Castle.
While researching this post, I found conflicting articles saying you could still get into the entrance of the wizard's cave. But a cave in makes it impossible to get much further than a couple of feet. Other commenters say that you can get further, but you'd be cut off at high tide.
Who knows if demons or dragons brought down the ceiling to seal off their treasure?
The wizard's cave is unlikely to uncover more of its secrets. But I highly recommend a visit to the Priory, if only to see the beautiful oratory chapel.
But if you go down on the beach late at night and you hear a clank of chains…you'd do well to pick up your pace…
If you enjoyed this post, sign up below to get these posts in your inbox!
I'll also send you two free tales inspired by changeling folklore.
Nutty about folklore and want more?
Add your email below and get these posts in your inbox every week.
You'll also get my 5-step guide to protecting your home using folklore!