Say the word 'bats' to people, and they'll often think of two things. They'll either picture a version of Batman (mine's Michael Keaton, thanks). Or they'll think of a legion of versions of Dracula, exploding into a cloud of bats, or hovering at the window of an all-too-willing victim.
But in truth, bats are incredible creatures, unlike anything else on earth. Divided into two groups, they're comprised of megabats, like the flying fox, and the microbat (Frembgen 2006: 242). Megabats use sight and smell to find food, whereas microbats use echolocation to find their food. The use of sound to navigate leads many people to assume bats are blind, but they aren't.
They're also the only mammals that can fly. Just remember that the bones supporting the membrane of their wings are actually fingers. So when they fly, they're really doing jazz hands. Not so creepy now, eh?
Most bats are nocturnal and they like roosting in dark spaces. Coming out at night means they have less competition for food, fewer predators, and cooler temperatures for hunting. Bats help to pollinate and spread seeds within rainforests and other tropical environments. Meanwhile, their poo, 'guano' is used as a fertiliser. They're truly important members of any ecosystem so we really need to celebrate them instead of fearing them!
Keep reading to learn more about the folklore of bats, or hit play to listen to the podcast episode!
Origin Myths
Various 'origin myths' try to explain why bats are the only mammal that can fly. One Roman fable claimed there was once a battle between the mammals and the birds. The bat didn't join in, watching the action without choosing a side. When Mars named the birds as the winner, the bat threw in his lot with them (Wigington 2019).
Gary McCracken relates a pair of Native American origin myths for the bat (1993). In a Cherokee version, the animals challenge the birds to a ball game. Two mouse-like creatures wanted to play on the animals' side. The larger animals, like bears and deer, laughed at them and turned them away. So they asked the eagle if they could play for the birds.
The birds felt bad for them and fashioned one of them a pair of wings from groundhog skin. This became the bat. They didn't have enough skin left for the second one, so they turned it into a flying squirrel. Thanks to these two new creatures, the birds won.
In the other version, the bat asks to play with the birds but the birds say no. The animals accept it but give it teeth so it's more mammal-like. In this version, the animals win with the bat's help.
These varying origin myths draw attention to the position of the bat between mammals and birds. They tend to see the bat picking one side or the other, but only following some kind of contest. Whichever side the bat ends up on has to give the bat new characteristics to help it fit in.
Ancient Bat Folklore
According to Thomas Kunz, the ancient Egyptians thought "bats could prevent or cure poor eyesight, toothache, fever, and baldness" (1984: 394). They also hung bats over doorways to stop the demons who carried these afflictions from getting into the house.
In ancient Rome and Greece, people believed putting a figure of a bat under a pillow could prevent sleep. This is possibly due to the bat's links with night time and nocturnal activity.
But it wasn't all bad.
Bats represented "happiness and good fortune" in China, so you'll often see them in old tapestries or Imperial robes (Kunz 1984: 394). Kunz relates an old Chinese custom for sewing bat-shaped jade buttons onto caps for babies to ensure they lived a long life (1984: 394).
According to CrystalWind.ca, bats represented the souls of the dead in Tonga and ancient Babylonia.
Patti Wigington notes that the Mayans had a god named Camazotz, who had a bat head and wings, and the body of a man (2019). Camazotz lived in a cave known as the house of bats (Strom 2019). You'll find plenty of websites that refer to him as 'the bat man'. Sometimes he's referred to as the god of death. He attacked victims before decapitating them, including the Mayan hero Hunahpu.
Bats in the Middle Ages
In medieval Europe, many thought bats worked as witches' familiars. Some in Scotland and northern England even thought bats carried messages between the devil and witches (Wigington 2019).
One horrific case in 1332 in France saw Lady Jacaume of Bayonne burned because bats flew around her house.
Others in Austria's Tyrol region believed a bat's left eye made a man invisible when he wore it, whereas binding a bat's heart to your arm with red thread made you lucky at cards in Germany.
According to CrystalWind.ca, bat's blood carried impressive properties. It could:
help you see in the dark if you washed your face in it,
make women more lusty by putting it under pillow,
make both men and women more passionate by adding it to their drink,
or add it to flying ointment for an extra boost.
It wasn't just the blood that was useful. You could carry bat bone in your pocket for good luck, while powdered bat's heart could stop a bullet (CrystalWind.ca).
This is an age when superstition and magical belief was rife. Bats become an almost obvious target for such folklore because they exist in a 'liminal' space. 'Liminal' just means something on the cusp, that lies between two states. Dawn and dusk are liminal, because they're neither night time nor day time.
Bats are mammals but they fly like birds – so they're in between. They also come out at dusk and live in caves or tunnels. While we have a greater understanding of these fascinating creatures now, perhaps those in earlier times saw their unusual qualities as being supernatural.
Bat Superstitions
According to Cora Linn Daniels and C.M. Stevans, bat bites would never heal (1903: 574). There is a teeny element of truth in that if it was a vampire bat since their saliva contains an anti-coagulant to stop blood clotting while they feed. But to say the wound would never heal is a bit extreme.
Daniels and Stevans also collected a range of superstitions about bats. They say bats were bad omens, predicting death, although bats who flew late in the evening meant fair weather was on the way (1903: 574).
They also say it's unlucky to kill bats that get into your room. Instead, it's a good omen if they land on something for a moment. It's also a sign of good luck if a bat gets into the kitchen and hangs onto the ceiling.
The flight pattern of bats even becomes important. If they fly around the house three times, it's a bad omen. If a bat circles your head three times, it predicts a death.
Another superstition says killing a bat meant you'd die soon (1903: 575). And a belief in Italy said the mere presence of a bat could bring on convulsions.
Contradictions
Superstitions can often be contradictory and rarely rely on any truth. Gary F. McCracken notes folklore from Nova Scotia about bats landing on something in your house. Where Daniels and Stevans say this is good luck, McCracken says it means the death of a man in the family. If the bat doesn't land on anything and keeps flying, it means a woman in the family will die (1992).
To make it even more confusing, an Illinois superstition claimed a bat getting into the house and staying "for a long time" meant a death would occur in the house. If the bat left soon after, "a relative would die" (McCracken 1992).
They don't even need to get into the house. People in western New York believed a bat flying around a house while a dog howled meant someone in the house would die. In Arkansas, just dreaming about a bat flying into your house was enough to kill a dear friend (McCracken 1992).
So why are there so many superstitions linking bats to death? Remember people often viewed bats as either being evil spirits or in league with the devil. A bat entering your house brought all of these dark associations with them. Nowadays, we realise that bats are beneficial, through eating mosquitoes and even helping with seed dispersal.
Vampire Bats
Bats have been present in folklore and myth for quite some time. As messengers for the forces of darkness, they become evil omens.
But where they're used as an ingredient in a witch's brew, they're no different to frogs or snails (also common ingredients). They're passive components, not active agents of change.
We've seen how they were considered to be witches' familiars. They were even positive symbols of good. So why do people continue to fear them today? Enter the vampire bat.
There are only three species of vampire bat, which only live in Central and South America. Even then, many of them are no bigger than 9 cm long. They'd hardly be able to drain enough blood to kill a person.
They can spread diseases like rabies, although CrystalWind.ca point out that less than a half of 1 % of all bats have rabies. So you've got more chance of getting rabies from an unvaccinated dog than you do a vampire bat.
Weirdly, vampire bats are incredibly sociable. They groom each other, and if a bat dies or is killed, the others will take care of their orphaned young. It doesn't exactly chime with the idea of a vicious killer, does it?
The Reality of Bats
This caring, gregarious side of the vampire bat is so far removed from Bram Stoker's Dracula. According to legends about the novel, Stoker was inspired after learning about a person allegedly drained of blood by a vampire bat. He conveniently ignored the fact that vampire bats are too small to take more than a tablespoon of blood. But the idea stuck.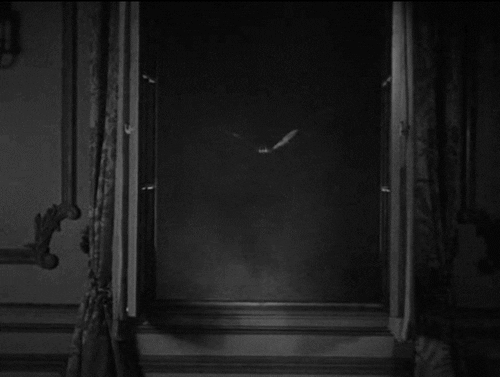 Not only do bats figure in folklore, they're also subject to real myths! No, bats will not get caught in your hair if they fly near you. Thanks to their echo-location, they know precisely where you are. No, they are not flying mice. And no, they don't drink blood.
They're pollinators, pest control, seed dispersers and even indicators of biodiversity. How clever of them?! Really, instead of believing the myths and superstitions, we'd be better off helping to protect our furry flying friends. They certainly do a lot for us!
If you like bats as much as I do, why not support the Bat Conservation Trust?
How do you feel about bats? Do you think they're creepy…or cute?
References
CrystalWind.ca (no date), 'Bat-Myths, Folklore and Facts', CrystalWind.ca, available here. Accessed 2 January 2020.
Daniels, Cora Linn, and C. M. Stevans (1903), ‪Encyclopaedia of Superstitions, Folklore, and the Occult Sciences of the World‬, Vol. 2, Honolulu: University Press of the Pacific.
Frembgen, Jürgen Wasim (2006), 'Embodying Evil and Bad Luck: Stray Notes on the Folklore of Bats in Southwest Asia', Asian Folklore Studies, 65: 2, pp. 241-247.
Kunz, Thomas H. (1984), 'Halloween Treat: Bat Facts and Folklore', The American Biology Teacher, 6:7, pp. 394-399.
McCracken, Gary F. (1992), 'Bats in Belfries and Other Places', BATS magazine, 10:4, available here. Accessed 2 January 2020.
McCracken, Gary F. (1993), 'Folklore and the Origin of Bats', BATS magazine, 11:4, available here. Accessed 2 January 2020.
Strom, Caleb (2019), 'Batman Existed in Mesoamerican Mythology and His Name Was Camazotz', Ancient Origins, available here. Accessed 2 January 2020.
Wigington, Patti (2019), 'Bat Magic and Folklore', Learn Religions, available here. Accessed 2 January 2020.
Nutty about folklore and want more?
Add your email below and get these posts in your inbox every week.
You'll also get my 5-step guide to protecting your home using folklore!