Tea is not simply the 'go-to' comfort beverage in the UK. Bill Laws describes tea as a history-changing plant (2016: 26). So naturally, the folklore of tea is bound to be an extensive topic.
The earliest records about tea are a preparation guide written during China's Tang dynasty between 760 and 762 CE. That said, tea remains were discovered in a tomb from the Han dynasty, some 500 years earlier (Charrington-Hollins 2020: 1). According to some legends, Emperor Shen Nung discovered it in 2737 BCE.
While we're not going to delve into the history of tea as it's simply too large a topic, we should note that Samuel Pepys first had a cup of tea on 25 September 1660, as recorded in his diary. In 1667, he notes that the apothecary recommended it to his wife, saying it would be good for her (Simpson 2003: 353). Dr Samuel Johnson also praised tea's good qualities in 1757 (Laws 2016: 26).
It's also been part of momentous points in history, such as the Boston Tea Party. And it became the beverage of choice for 19th-century prisoners. But how does it show up in folklore, folk remedies, and even divination?
Let's find out in this week's post! This is part 2 of the Folklore of Drinks series. Keep reading or hit play to hear the podcast episode of this post.
Predictions Are The Mainstay of the Folklore of Tea
Tea is perhaps most associated with fortune-telling, and a whole range of superstitions and predictions accompany tea and the ritual of drinking it. For example, a teaspoon upside down on a saucer indicates you'll hear news of a close relative's bad health (Charrington-Hollins 2020: 161).
But if you want to predict when a marriage will happen, then balance a teaspoon on the edge of the cup. Drip tea one drop at a time onto the spoon until the spoon falls. The number of drips it takes to dislodge the spoon is how many years it'll be until a marriage happens (Charrington-Hollins 2020: 161).
When stirring tea in a teapot, stir it clockwise. Stirring it anticlockwise can stir up conflict. Don't stir anyone else's tea as you risk falling out with them (Webster 2008: 251). Only ever use a spoon to stir tea as it's bad luck to stir it with anything else (Binney 2018: 129).
Women were advised to put sugar into the cup before milk, otherwise, they would never marry (Webster 2008: 251). If a man poured more than one cup of tea for a woman on the same occasion, she'd become attracted to him (Webster 2008: 251).
Two women sharing a teapot had to be careful. If they both poured tea from the same pot, one would soon become pregnant (Webster 2008: 251). Putting two teaspoons on the same saucer by accident indicates a wedding or a pregnancy (Charrington-Hollins 2020: 143). If you accidentally drop a teaspoon while making tea, it predicts a pregnancy for someone at the gathering. It doesn't count if you do it on purpose (Dow 2011: 117).
Leave the lid of a teapot open to receive visitors. Likewise, leaves floating in a cup of tea meant visitors would be on the way (Webster 2008: 251). A tea leaf or a stalk floating in the tea is a 'beau'. If it sticks to the spoon, then a male marriage partner will arrive (Binney 2018: 129).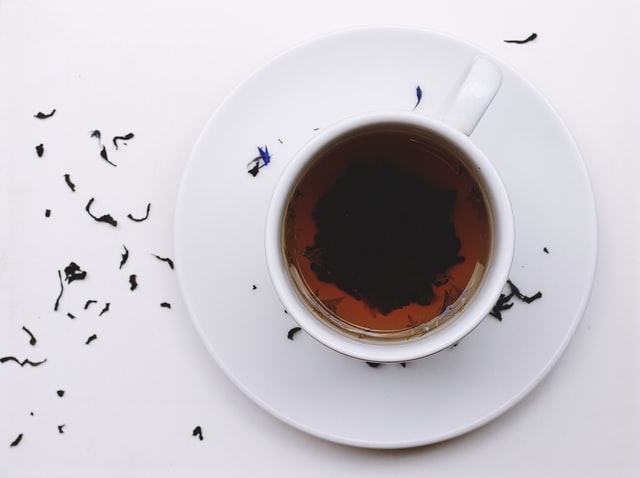 Don't drain a tea kettle dry or it'll bring bad luck (Daniels 2003 [1903]: 304). Avoid spilling milk when you add it to your tea or it'll bring you bad luck (Binney 2018: 128). Breaking a teapot is a sign of trouble (Daniels 2003 [1903]: 304).
Married couples should beware if a kettle spouts water while boiling. It indicates a quarrel on the way (Daniels 2003 [1903]: 304). If you boil a kettle on your wedding day and it boils over, you'll be a sour wife (Daniels 2003 [1903]: 304).
Brewing tea more strongly than usual suggests the start of a new friendship. Making it weaker will see the end of a friendship (Charrington-Hollins 2020: 143).
Fishermen believed that if they emptied the teapot before they set off, the fish wouldn't bite. And if the family emptied the teapot before he left the house, the men would be lost at sea (Dow 2011: 118).
But it's not all bad. Spilling tea while you're in the process of making it is a sign of good luck (Charrington-Hollins 2020: 143). And if you see bubbles on the surface of the tea, that's great! If they're in the centre of the cup, it's a good financial omen. If they're at the sides, it means kisses are coming (Binney 2018: 129). Scoop up the bubbles on a teaspoon and lift the spoon out without touching the cup's sides. If you can swallow the bubbles before they pop, you'll get a letter with good news (Dow 2011: 118).
Reading Tea Leaves
The art of reading tea leaves is called tasseography. Tasseography started in ancient China and requires you to look at the patterns tea leaves make inside the cup after finishing the tea.
Tasseography appeared in Europe after tea became popular in the 17th century. All you needed to do it was a cup, saucer, and tea, making it an easy type of fortune-telling to try. That said, you have to remember that tea was not cheap when it was first introduced so it wasn't accessible in the way that palmistry or even playing cards were.
Reading tea leaves is referred to as a primarily female pastime during the 18th century, although it became more common in the 19th century (Simpson 2003: 353). Due to the manuals devoted to tea-leaf reading, many of the signs are very similar.
Some people think the drinker infuses the tea with their energy, much like shuffling a deck of cards 'imprints' their energy on the reading. It works best with loose tea because it gives better images. The tea in tea bags is too finely ground to make it much use.
Obviously, it goes without saying that you shouldn't use a tea strainer or a teapot with an internal strainer because you want the leaves!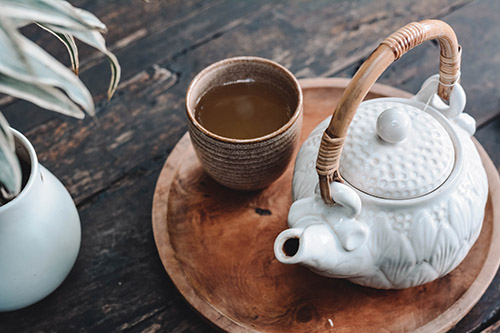 How to Do a Reading
The basic premise is this. Make your tea using loose leaves, and leave them in the cup. Then drink your tea. Hurrah!
Leave a teaspoon or so of tea in the cup. Hold the cup handle in your left hand and ask your question in your mind.
Swirl the liquid in the cup anticlockwise three times.
Put the saucer over the cup and invert it. Leave it for a minute to let the tea drain out, and right your cup.
Now you can read the leaves! See if any shapes leap out to you. Which ones grab your attention? What ideas pop into your head?
You can find out what the symbols mean in a good guide to tasseography, like Caroline Dow's Tea Leaf Reading for Beginners: Your Fortune in a Teacup.
Tea and Sorcery
Aimee Henrietta Lake was the last woman to stand trial for witchcraft in Guernsey in 1914—and it was all thanks to tea. Seren Charrington-Hollins relates the tale. According to her, a woman named Mrs Houtin believed she'd been cursed for not paying a debt of £3. She'd incurred the debt by buying some magic powders from Aimee Lake, after the unexpected death of her husband and the recent deaths of her cattle.
Mrs Lake read both tarot and tea leaves, and sold charms made from kitchen cupboard ingredients to make a living. She'd sold Mrs Houtin one of these charms after reading her tea leaves. Mrs Houtin took the charm but didn't pay, leading Mrs Lake to suggest harm would come to her if she didn't pay up.
And thus Mrs Houtin went to the police about her. Mrs Lake was accused of "disorderly conduct and carrying on the trade of fortune-telling and witchcraft". She denied the witchcraft charges, and the powders were tested and found to be products like baking powder. Despite this, she was sentenced to eight days in prison (2020: 157-158)
Simple Tea Spells
Thankfully, there's little stopping you from making magickal use of tea in the 21st century! Some people mix black and green teas with other herbs for magickal results. For example, you might add rose petals to help heal a broken heart. Or adding lavender can help promote relaxing sleep.
Add dried tea leaves to your pillow to make sure you'll sleep well. Some even thought you could actually halt nightmares, negative thoughts or even sleep disturbances with this practice (Charrington-Hollins 2020: 152).
Seren Charrington-Hollins recommends that you hold a handful of black tea leaves. Visualise money as an easy flow that comes to you, while chanting "money come, money flow". When you feel the tea has been charged enough, brew them as usual in your favourite teapot. Visualise being wealthier while you drink the tea (2020: 153).
S. Theresa Dietz gives a simple spell: "Wear a pouch of Camellia sinensis as a talisman to increase your strength and give yourself a boost of courage (2020: 48). See? Witchcraft ingredients don't have to cost a fortune or be extremely rare.
Folk Remedies Involving Tea
Ruth Binney notes it was considered a bad idea to throw away tea leaves. In bygone eras, housewives put them on the fire to keep poverty at bay (2018: 129). But that's not all tea leaves are good for!
Mix black tea leaves and sage to create a hair rinse for dark hair (Dow 2011: 118). Green tea as a hair rinse can actually fight dandruff (Charrington-Hollins 2020: 154).
If you've got sunburn, wash your face in cool black tea to ease the pain. The tannins in tea will also help soothe sore throats and mouth ulcers (Dow 2011: 118).
Washing your face in warm tea will help open any blocked pores (Dow 2011: 119).
Rejuvenate tired or puffy eyes by laying cold chamomile or black tea bags on your eyelids. Use green tea bags on sweat rashes and mosquito bites to lessen itching (Dow 2011: 119). You can also burn tea leaves on an outside grill to deter mosquitoes (Dow 2011: 120).
Make a foot bath with black tea, salt and lemon to soothe any sores, swelling, aches, and even fungal infections. Soaking your feet in peppermint tea for twenty minutes will eradicate any smells (Dow 2011: 119).
Used tea leaves also make a great odour absorber. Sprinkle nearly dry used leaves on the carpet and leave them to dry. Once dry, sweep them up and you'll find they've refreshed your carpet. Otherwise, put them in a bowl in the fridge to absorb smells (Dow 2011: 120).
You can enrich a compost pile with spent leaves, or use them to fertilise peppers, roses, and camellias (Dow 2011: 120).
Death and Tea
But let's end this post about the folklore of tea with a spot of poison, since that's where Fabulous Folklore usually goes!
Silver teapots were the preserve of the upper classes with their elaborate tea rituals. The lower classes had to use pewter, which is a tin alloy that contains lead, antimony, copper, and bismuth. Remember that lead builds up in both the bones and the soft tissue, and damages the nervous system. So not a great material to make a teapot from (Charrington-Hollins 2020: 143).
But of course, not all death by teapot was accidental.
Tea became an easy way to poison people.
In the North East of England, we had the notorious murderess, and apparently Britain's most prolific female killer, Mary Ann Cotton. They still don't know exactly how many people she poisoned, but it's believed to be around 21.
She's particularly notorious because she kept taking out life insurance policies on her partners and children before they died of apparent 'gastric fever'. The symptoms of this are incredibly similar to those of arsenic poisoning. It seems Cotton used tea as her delivery mechanism, allowing her to keep giving the poison until it built up in the body to a lethal dose. Cotton apparently kept a small teapot specifically for her poisoning, and Beamish Museum holds the teapot believed to be hers. It's a black Wedgewood teapot, donated in 1972 (Beamish 2016).
She was finally caught because she tried to give up one of her stepchildren, but when this didn't happen, she'd commented to a local official that she wouldn't be troubled by him for long. The official informed the police after the seven-year-old died, and the autopsy found arsenic in his stomach. This led to exhumations of other people close to her, and arsenic was found in their stomachs too (Tikkanen 2022).
Her defence tried to claim that those who died must have been poisoned by household arsenic, present in the dyes used in the wallpaper. This is plausible, given how common an ingredient arsenic actually was, and the Dirty Sexy History podcast has a fantastic episode about it. The defence didn't stick, and she was executed on March 24, 1873. Mary Ann Cotton went on to become the subject of a rather macabre nursery rhyme.
"Mary Ann Cotton,
She's dead and she's rotten
She lies in her bed
With her eyes wide open (pronounced to rhyme with 'rotten'.
Sing, sing, oh what should I sing?
Mary Ann Cotton is tied up with string.
Where, where? Up in the air.
Selling black puddens, a penny a pair."

(Flanders 2011: 394)
Not all tea poisoners used arsenic
Sarah and Ann Rimmer were charged with an attempt to poison Ann's daughter Elizabeth in 1852 in Liverpool. Ann and her sister Sarah had made Elizabeth a pot of tea, and Elizabeth noticed the tea was sweeter than usual. After drinking it, she suffered burning in her throat and stomach. Her mother and aunt had threatened to poison her once before, so the quick-thinking Elizabeth took the teapot to the druggist. An analysis of the contents confirmed the presence of oxalic acid, and Sarah and Ann Rimmer were sentenced to death (Charrington-Hollins 2020: 151).
What do we make of this folklore of tea?
It's hardly surprising that the plant has accrued so much folklore of tea in its long history. Aside from drinking it for comfort, many associate loose tea with reading tea leaves, though the practice seems to have died out with the current boom of interest in runes and tarot cards.
Yet it's perhaps tea's use in both magickal and mundane remedies that is of most interest since its price makes it a more accessible ingredient than most. This, for me, reminds us that when we look at a lot of the 'witchy aesthetic' stuff on Instagram, we have to ask ourselves: would cunning folk of bygone centuries have surrounded themselves with crystals and expensive ornaments, or would they have worked with what they had to hand?
Let me know below: do you have any unusual uses for tea?
References
Beamish Museum (2016), 'Mary Ann Cotton's Teapot at Beamish!', Beamish Museum, https://www.beamish.org.uk/news/mary-ann-cottons-teapot-at-beamish/.
Binney, Ruth (2018), Plant Lore and Legend, Hassocks: Rydon.
Charrington-Hollins, Seren (2020), A Dark History of Tea, Barnsley: Pen & Sword Books.
Daniels, Cora Linn and Charles McClellan Stevens (2003 [1903]), Encyclopædia of Superstitions, Folklore, and the Occult Sciences of the World, Vol. 1, Honolulu, University Press of the Pacific.
Dietz, S. Theresa (2020), The Complete Language of Flowers: A Definitive and Illustrated History, New York: Wellfleet Press.
Dow, Caroline (2011), Tea Leaf Reading for Beginners: Your Fortune in a Teacup, Woodbury, MN: Llewellyn Publications.
Flanders, Judith (2011), The Invention of Murder: How the Victorians Revelled in Death and Detection and Created Modern Crime, London: Harper Ress.
Laws, Bill (2016), Fifty Plants that Changed the Course of History, Exeter: David & Charles.
Simpson, Jacqueline and Steve Roud (2003), A Dictionary of English Folklore, Oxford: Oxford University Press.
Tikkanen, Amy (2022), 'Mary Ann Cotton', Encyclopedia Britannica, https://www.britannica.com/biography/Mary-Ann-Cotton.
Webster, Richard (2008), The Encyclopedia of Superstitions, Woodbury, MN: Llewellyn.
Nutty about folklore and want more?
Add your email below and get these posts in your inbox every week.
You'll also get my 5-step guide to protecting your home using folklore!