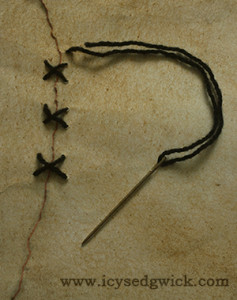 She thought of him often, but today, as she stitched, she realised he'd never loved her. He'd never be able to love her. None of them had. Maybe some of them wanted to, but couldn't.
The needle followed its smooth path, the black stitches small and neat. Her mother taught her to sew when she was nine, always instilling within her a sense of wonder, and power, whenever she created a new dress, or an apron. Making something useful out of nothing but raw materials was something on which she prided herself.
Her thoughts skipped around the vast meadows of her mind, and she thought of the illicit money changing hands, the large packages delivered in the dead of night. The men asked no questions and she told them no lies.
The last stitch slid into place, and she tied off the thread so that the knot was almost invisible. The stitches wouldn't hold forever, but she already knew that nothing lasted forever. As long as they held long enough to do their job, that was all she asked for.
As she wheeled the gurney out to the balcony, and arranged the lighting rods to their optimum positions, she realised that for the last ten minutes she hadn't thought of the men she'd met at all. The past was slowly spiralling out of view, leaving only the future in front of her.
She sniffed the air, and smiled – the air smelled of ozone, and potential. She retreated inside, and watched from behind a screen. Lightning struck the first rod, and then the second. The sheet covering the gurney twitched.
She hadn't been able to find the perfect man – but maybe now she had made him.