The Academy boasted many fine laboratories, practice suites and classrooms, but if Jyx had to choose his favourite place, then it was surely the library.
For one thing, it was the only room in the entire building where he didn't feel out of place. His shabby and mended robes matched the cracked spines and moth-eaten covers of the ancient tomes.
For another thing, he was one of the few students that used the room regularly, meaning he'd earned certain privileges from the librarians. They often allowed him to help them restock the shelves, which is the only way he could sneak a look at the books reserved for older students.
One rainy winter's day, Miss Tuesday handed him a stack of volumes intended for the fifth year section.
"Remember Jyx, no peeking!" She winked, and turned away to the card catalogue behind the issue desk.
Jyx carried the books to their section, and perused the titles as he placed them back in their correct slots. The fifth years must be up to their History of Magickal Theory module, as nearly all of the books were about dry topics that didn't interest Jyx in the slightest. Only one title in the pile caught his eye – Transmogrification 101. Jyx knew how to do a lot of magick that was beyond the abilities allotted to his year group, but he'd never even considered turning one object into another.
He peered around the corner of the bookcase to check Miss Tuesday still had her back to him. Satisfied the coast was clear, Jyx sat at a nearby table and opened the book. He flipped past the usual warning pages to the introduction. Its gist concerned the uses of Transmogrification – it expected fifth year students to restrict their attempts to inanimate objects. Jyx shrugged – he just wanted to know how it worked.
Moments later, he'd located a beginner's spell to turn one piece of furniture into another. The instructions stated it was easier to work with objects that had a similar purpose or size at first. A stool further down the aisle seemed the ideal object to start with. Jyx carried it back to the table. He consulted the book, and drew a sigil in the air over the stool.
"Illuc vertere alio in aliud, supellectilem in supellectilem", he said, keeping his voice to a whisper.
The stool disappeared with a soft 'pop', and a strongbox appeared in its place. Jyx grinned. He turned back to the book when another soft 'pop' caught his attention. The strongbox was gone, replaced instead by a tall, ornate hat stand. He moved closer but before he could touch it, the hat stand winked out of sight, and a low table appeared in its place. A rustle of silk behind him made him jump.
"Jyx! What are you doing?" Miss Tuesday appeared in the aisle.
"I, er, I, well, I tried one of the Transmogrification spells," replied Jyx. He knew better than to lie to Miss Tuesday.
"Which one?" asked Miss Tuesday. She raised an eyebrow but said nothing about the fact he'd openly admitted to trying magick beyond his year group.
Jyx showed her the book, and then showed her the low table, which was now a trunk.
"What's it doing? Why does it keep changing?" asked Jyx. The trunk turned into a small cabinet, which became a sturdy chair, followed by a bookcase. A soft 'pop' and a puff of coloured smoke accompanied each change.
"I think I know what's happened. You've made an occasional table," replied Miss Tuesday. A grin tugged at the corners of her lips.
"What's an occasional table?" asked Jyx. The bookcase turned into a strongbox.
"Exactly what the name implies. It is a piece of furniture that is only occasionally a table." On cue, the strongbox disappeared, replaced by a small table. "They're really very useful if space is a premium."
"How can that be useful if it keeps changing?" asked Jyx. The table turned into an umbrella stand.
"You just need to add a mechanism that only lets it change when you tell it to. Dicam cum eum locutus est." Miss Tuesday drew a sigil in the air and flicked it at the umbrella stand. Its outline shimmered, and the stand flickered twice, but it remained an umbrella stand.
"Now it's stable. That's the part you missed out." Miss Tuesday pointed to a small box underneath the main incantation. Jyx groaned.
"How do I make it change?" he asked.
Miss Tuesday demonstrated the sigil, and pointed to the shorter incantation in the book. Jyx copied her movement, and spoke the words aloud. "Mutatio!"
The umbrella stand disappeared, and the small cabinet reappeared in its place.
"At this level, you need to go through all of the furniture in its cycle to get the one you want, but in time you'll be able to change it to the one you want immediately. There are other spells you can add too, like the preservation of space. So if you put books in the cabinet and then turned it into a strongbox, you could turn it back into the cabinet and your books would still be there."
"Can you show me those too?" asked Jyx. His mother could definitely benefit from space-saving furniture in their tiny, cramped garret.
"I think you've tried out enough for today and I really  shouldn't be encouraging you like this. Finish putting the books away, without reading them, and I'll see you next week."
"Same day?"
"As always." Miss Tuesday smiled, and glided away down the aisle.
Jyx whipped out a scrap of parchment, and scribbled down the incantations and the sigils. He'd practice on his mother's sewing box when he got home.
* * *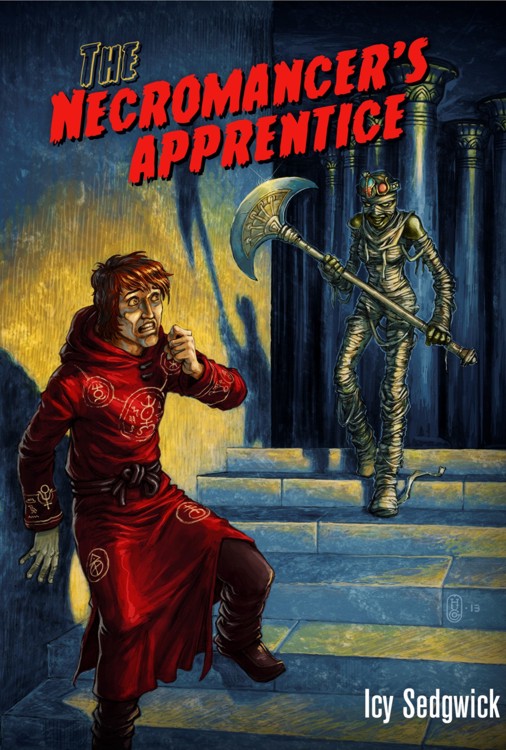 This story was set in the Underground City, the world of my novella, The Necromancer's Apprentice. It's also set before the events of the book begin!
"It's got mummies, wolf-soldiers, mayhem, and all kinds of magic!" – ★ ★ ★ ★ ★
"Recommended for fans of Harry Potter, Disney, classic horror movie buffs, and children of middle-to-old ages." – ★ ★ ★ ★ ★

Get your free book of short stories!
"Creepy mummies, ghosts, ghouls, and the paranormal" ⋆ ⋆ ⋆ ⋆ ⋆
You'll also get my monthly email including free short stories, book recommendations and other fun stuff.