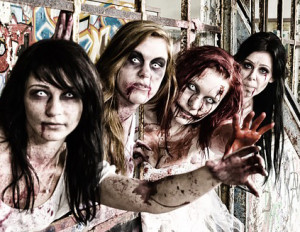 It's Halloween, so it's time to talk horror movies! If you and your friends are anything like the people I know, then you'll have had the zombie apocalypse conversation. You'll know what you'll do, where you'll go, and how long it'll be before you ultimately panic.
I'll be honest, I'm a big fan of Shaun's plan – sit and home, make a cup of tea, and wait for it all to blow over.
But how many people actually have their zombie survival kit to hand?
The folks at Man Crates, a company who provide boxed gifts for men that need to be opened by a crowbar (the gifts, not the men), want to know what you would want to have in your kit. So here are my top five items!
1) Maps of the local area.
Forget using Google Maps – you can't expect to get much mobile phone coverage when it all hits the fan. You might need to leave where you are and hole up somewhere safer – and you don't want to get yourself stuck in a dead end. Good old fashioned paper maps don't need GPS or batteries. Just make sure they're recent.
Incidentally, this is good advice if you go fell walking or hiking. Don't be the person who needs to call Mountain Rescue because you thought you could rely on your iPhone.
2) Crowbar
A lot of people always say they'd want a gun, or a sword, during a zombie apocalypse but be honest – do you know how to use one? Do you know how to maintain a gun? And come on, if you live in affluent Chelsea, where will you even come by one? Sure, a sword doesn't need ammo and they're quiet, but you still need a bit of skill.
Not so with a crowbar! Swing and a thud, that's all you need. Plus they're useful for getting into places that might provide shelter, as well as being relatively light to carry.
3) Plants identification guide
Once the power goes, any food that needs to be kept refrigerated will need to go. Most people don't know how to hunt and prepare their own food, so once the canned goods run out, they'll turn to foraging.
Do you know the difference between parsley and water hemlock? Or cherries and belladonna berries? (Hint, the berries in this picture are belladonna…and they're poisonous!) Best equip yourself!
4) A flint
You'll need fire for various reasons (cooking, keeping warm, defence) and matches might get wet, and lighters don't always work. You might even want to just randomly set fire to zombies but remember they don't feel pain so they'll probably just wander about setting fire to other things.
Learn how to use a flint and keep it handy!
5) Motorbike leathers
Most people in movies get bitten on their extremities and while a set of motorbike leathers won't guarantee ultimate protection, they're tougher than denim and they'll hopefully keep most bites at bay.
Plus leathers will prevent general cuts and scrapes that'll be harder to keep clean once you can't just pop to Boots for a tube of Savlon.
So that's what I'd like to keep handy! What five items would you keep in your kit?