Halloween is a perfect time of year to tell ghost stories. Lord knows I have enough weird ghost stories among my free short stories. But I ran a poll on Facebook and Twitter, and a whopping 93% of the respondents on Twitter wanted me to talk about my own weird experiences, rather than post yet another fictional story.
So here you go. I can't tell you that there is a world beyond ours. But I also can't tell you there isn't one. You can choose to believe me, or remain skeptical. All I ask is you read what follows with an open mind…
1) When the living annoy ghosts
Sadly I don't have any physical evidence for this one, so you'll just have to chalk it up to personal experience.
The first of my weird ghost stories happened on a visit to the Foundling Museum in London. It used to be the Foundling Hospital, where mothers who couldn't cope could petition to have their babies accepted. The babies would be given new names, and brought up at the hospital. They'd get a rudimentary education, and sent off into the world when they came of age.
It's a sad place to visit because while these foundlings did find a family of sorts, they never experienced the 'nuclear family' that so many prize today.
It's especially sad to think of the mothers. They essentially entered a lottery, since not all babies could be accepted. The 'lucky' mothers whose babies were accepted often left a token with their children to remind them of their families. But such tokens were never passed on, to assure a clean break.
Still, I was walking around, soaking up the atmosphere. It was maybe 10 am on a weekday so it was pretty quiet, aside from a couple of women with their children. The kids didn't really seem to appreciate where they were. But what modern child in a 'regular' family could grasp the concept of being given away?
I walked up the stairs to the next floor.
But I suddenly got this definite sense there was someone on the landing above.
I couldn't see anyone – that would have been too cool/terrifying. But if I looked away, then I could almost picture a matron standing glaring down into the front entrance hall. I didn't hear anything, but I got the sense she was furious that people had willingly brought children into such a place.
As if to say "This is no place for children or entertainment. This is a place of business."
She didn't seem to give a damn that I was there, but as an adult, why shouldn't I be? I continued up the stairs, and the feeling dissipated by the time I reached the Handel exhibition on the top floor.
It was very, very weird. I've never forgotten the feeling of knowing a person was there, even though I couldn't see them.
You know when sometimes you're aware of someone looking at you without even needing to look up? Yeah, like that.
It actually went on to inspire my free short story, The Foundling.
2) When ghosts listen in on the living
The second of my weird ghost stories is a far nicer version of the Foundling Museum tale.
We'd gone to Belsay Hall in Northumberland, and they had an event on (I forget why). Part of it involved a guide in 18th-century dress explaining the story of tea. She sat at a small table, surrounded by props, in the glorious Grecian entrance hall.
The tale involved smuggling, tea leaves, and all kinds of skulduggery. Put simply, it was fascinating.
I was suddenly aware that we were not alone. My mum and I sat among a few other visitors with the guide on the ground floor. But I got the distinct impression that someone else was standing at the banister above, leaning over the rail to hear better!
I looked up, but there was no one there.
No one I could see, at any rate.
Belsay Hall is a fascinating place to visit if you're into the supernatural. We went to see a theatre company perform two of Dickens' ghost stories, and someone (or something) kept tugging on the hem of my coat.
There was no one nearby…
3) When ghosts get a bit 'hands on'
Not all ghosts are so happy to just listen. In the third of my weird ghost stories, I thought I'd go with 'The Time One Of Them Scratched Me'.
So I was sitting watching a marathon of Lord of the Rings. As you do.
Suddenly I looked down, and noticed this mess of scratches on my shoulder.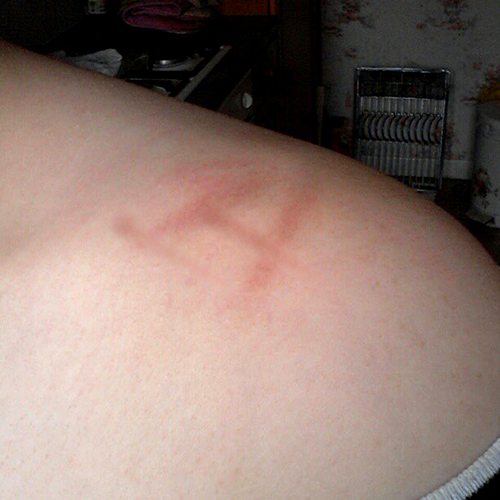 All I can say is they didn't come from me.
My nails are wider than the scratches, and they're also at some funny angles as well. No clue what made them, or why. But they erupted in one go. I felt no pain, but the area was really warm to the touch.
I've seen physical marks before. A few years back, I went on a ghost walk around Newcastle upon Tyne. The tour guide made me stand in a corner beside St Nicholas' Cathedral, turned away from the rest of the group.
It suddenly went really quiet, like time slowed down, and I was convinced that if I turned round, I'd be alone. Even worse, I'd be in the "wrong" Newcastle. No idea where I got that sense from, but that was the impression in my mind.
Luckily I wasn't in the "wrong" Newcastle, wherever that is. When I turned back everyone was still there, but my then-boyfriend started complaining of a pain in his stomach. We checked when we got back home and two massive red marks, about the size of hand prints, glowed on his stomach. They were hot to the touch, too.
Really, really weird.
4) When ghosts want you to know they're there
The last of my weird ghost stories comes from a trip to Colchester. I needed to register for my PhD at the University of Essex at 10am on a particular Thursday. Getting there from Newcastle on the same day meant setting off at about 5am.
I decided to stay over the night before.
I booked a room at a pub that was on the bus route between the train station and the university. According to the website, it used to be an 18th-century coaching inn.
Turns out my room was on the top floor. Judging by the low ceilings, the narrow doors and the smaller windows, the floor once housed the servants' quarters.
I settled in for the night, but while I was watching TV, I heard a weird noise outside. I could have sworn for all the world that someone was dragging an old-fashioned trunk along floorboards. Their boots made a peculiar knocking noise against the wood.
The noise was directly outside so I went to the door in case someone needed a hand with their luggage.
The corridor was completely empty.
Not only that, it was also tiled with that fake marble you get in a lot of B&Bs. Not a wooden floorboard in sight.
I was a little spooked, but I've experienced worse.
So I went back into my room. I got ready for bed and was just in the process of settling down to sleep when a knock sounded on the bedside table. Furniture makes weird sounds when it's settling at night, so I ignored it.
Then a knock came from the bedside table on the other side of the bed. Next it came from the desk several feet away. Then the door of the bathroom. Followed by the wardrobe door. Then back to the first bedside table.
I think the knocking made a complete circuit before I sat up in bed and turned the light on. The next knock still came, but the room was empty (besides me, obviously).
I did what any tired Northerner faced with the prospect of an early start the next day would do.
I told it to f- off, I had an early start and didn't have the patience for any shenanigans.
The knocking stopped.
So I went to sleep and thought no more about it. Whenever I tell the story, people accuse me of making it up, or misunderstanding the sounds (how do you misunderstand a knock?). Some think I dreamed it, but I know I was awake. For one thing, I rarely remember my dreams, and for another, I hadn't actually gone to sleep yet. All very weird.
So those are my weird ghost stories! Please share any strange experiences you've had in the comments below. I'd love to hear from you!