It's World Book Day 2016 in the UK and Ireland! The Day originates in Catalonia, and it's now marked by over 100 countries around the globe. Books have been given as gifts on St George's Day for over 80 years, and as such most countries will be holding World Book Day 2016 on 23 April. However, the UK and Ireland always like to be different!
What IS World Book Day?
In the UK, book tokens are distributed around schools enabling children to choose from a specially selected range of ten books – which they get for free! Alternatively, they can use the tokens to get £1 off a full price book. It's a brilliant scheme, and this year even includes a book by Roald Dahl!
World Book Day is run by a registered charity; financing mostly comes from contributing publishers, literacy partnerships, participating booksellers, and it's sponsored by National Book Tokens. I remember the thrill of being given book tokens when I was younger, either as gifts or when I won them at school.
Reading is a wonderful pastime and a brilliant way to help children learn, and understand the world around them. Why not give a book to a child you know? Check out the World Book Day site to find out what specially produced £1 books are available. (Make sure you let their parents know so you don't get accused of anything underhand!)
My World Book Day 2016 gift to you!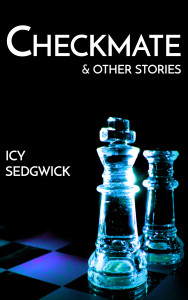 In the spirit of the day, I also wanted to let you know that my first collection of weird tales, Checkmate & Other Stories, is available for FREE from Amazon, Kobo, Barnes & Noble and iBooks, among others. It contains fifteen tales, spanning fantasy, horror, sci fi and speculative fiction.
Among other things, Bleed Them Dry puts a new spin on vampires, talking corpses tell their side in The Dead Do Listen, a little girl is fascinated with an antique that hides a dark side in The Mirror Phase, and a devilish game of chess goes wrong in Checkmate.
It's been described as "a wonderful collection of tales of subtle urban fantasy with a delicious gothic flavour", "reminiscent of both Gaiman and Collier" and "a superbly written collection, full of surprises and innovations and better than many similar works I've paid for!"
If you do grab a copy,  please consider leaving me a review as it helps other readers to find it, and enjoy their free copy!
You can also get the follow up, Harbingers & Other Stories, for free by signing up to my mailing list. Normally it would cost $2.99 but I'm giving it to you as a gift to welcome you to my list.
What are you doing for World Book Day 2016?