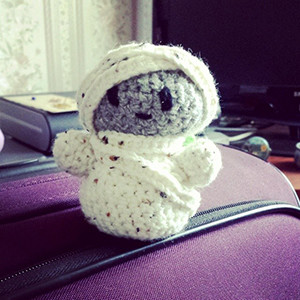 If you've been following me on Instagram, or you're friends with me on Facebook, you'll have seen a string of photos from my recent trip to Paris. Among them, you'll have seen a collection of images that I've tagged #mummyselfie, as they feature my little crochet mummy that I made a few weeks ago. I've been calling her Mummy, but she's actually based on Neferpenthe, the mummy villain in my latest novella, The Necromancer's Apprentice. But where Neferpenthe is what you might call "a wrong 'un", Mummy has turned out to be rather cute – and rather popular! Her 'selfies' have been far more popular than any images of me – it could give a girl a complex! Anyway, I thought I'd document my trip using the images of Mummy for those who haven't seen them.
We got to Paris on Thursday 17th July, and we were staying at the L'Horset Opera hotel on Rue D'Antin, just off the Avenue de l'Opera. It's handy staying so near the Opera House as there is a bus route from Charles de Gaulle airport straight to the Opera, called the Roissybus, which makes transfers a bit easier.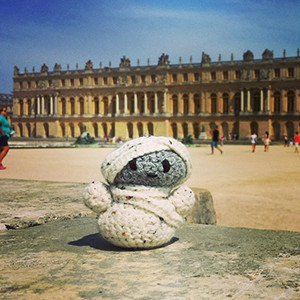 On the Friday, we took a trip down to the Palace of Versailles – I've seen the palace of Herrenchiemsee in Bavaria which was based on Versailles, and it might sound heretical to say so but I actually think Ludwig's copy is the nicer building. But here's Mummy outside the Palace itself. We also visited the Grand Trianon and the Petit Trianon in the grounds, and had a wander around the gardens, but the temperature got up to 36°C, which is far too high for a Northerner like myself, so it was a blessed relief to get into the cool of the Palace – even if it was jammed with massive tour parties.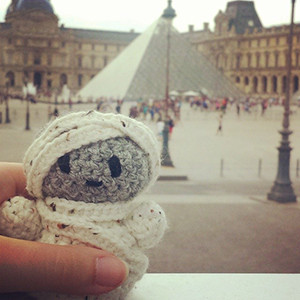 On the Saturday, we decided to hop onto the L'Open Tour bus to see a bit more of the city – they operate five different routes, and it's 32€ for a single day, 36€ for two, or 40€ for three. It's well worth it because the buses stop at all the major attractions and you can hop on and off as much as you like while your ticket is valid. It's certainly safer than using the Metro, and you get to see more of Paris. The 'green' line goes past the Louvre, and I just had to get a photo of Mummy with the glass pyramid. She doesn't look entirely impressed though.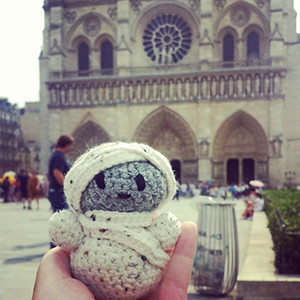 One of the main reasons for using the open top bus was to get to Notre Dame, which is on the green line. I'd always wanted to see it, and it's a genuinely beautiful building. I actually preferred it to Cologne Cathedral which I saw last year. I couldn't get any photos of Mummy inside due to the low light, but here she is outside.
We spent the rest of Saturday touring the green line, and we attempted the yellow line through Montmartre, but the roads had to be closed due to the Gaza protest outside the Gare du Nord which turned violent. Instead we explored the beautiful little shopping arcades just off the Boulevard Montmarte – I could have spent a fortune!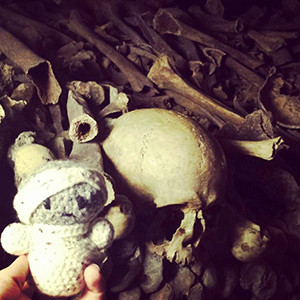 On Sunday we went to the Catacombs – if you ever go, for God's sake go well before 10am. We got there at 10:30am and I didn't actually get in until 1pm! It's incredibly atmospheric down there, even in the old disused quarry section of the tunnels. I was dying to know what lay beyond the security grilles that block some of the passages, but the ossuary was clearly the main draw for most visitors. I did feel a bit strange taking a photo of Mummy down there but as she's a necromancer in the book it seemed logical to do so. She doesn't look very happy though.
It's funny, I've done tons of paranormal investigations in my time, and I've visited the catacombs in both Highgate and Kensal Rise Cemeteries, but I've never been as freaked out as I was in the Paris Catacombs. I don't know if it was the sheer quantity of bones on show, or the heavy feeling of sadness that hangs in the air, but I was glad to get back out into the sunshine. Still, it was good inspiration for the sequel to The Necromancer's Apprentice.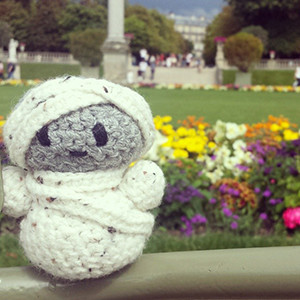 After the Catacombs we rode the orange bus line all the way back around to the Jardin de Luxembourg in the Montparnasse area of Paris. It's beautiful there, and they had a band playing at the bandstand – their rendition of the Pirates of the Caribbean theme was particularly good. There's a lovely atmosphere in the park, and the Medicis Fountain is well worth seeing. Look, Mummy even looks happy to be among the pretty flowerbeds!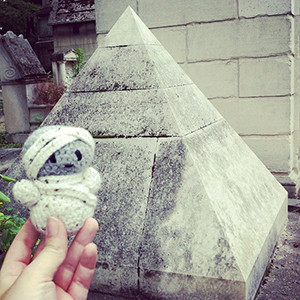 We continued the slightly morbid theme on Monday by visiting the Cimetière du Père-Lachaise, the final resting place of such luminaries as Jim Morrison, Oscar Wilde, Edith Piaf and Frederic Chopin (all of whom we visited, along with Jacques-Louis David, Georges Bizet and Georges Méliès). Mummy was pleased to see another pyramid! The cemetery is far bigger than I imagined, and with its street names and rows of sepulchres, it feels like a city of the dead.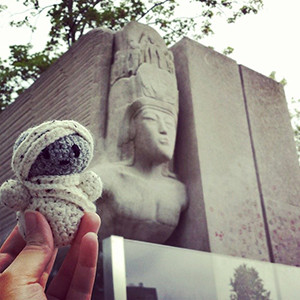 Here's Mummy with the tomb of Oscar Wilde. Sadly there is a glass partition around it to stop people from leaving their mark – you can already see the amount of lipstick marks on the stone. Still, I think he'd be pleased to know so many people are still dropping by. Jim Morrison's grave is even more popular – it's more awkward to find, and there were so many people there I couldn't get a photo of Mummy with him.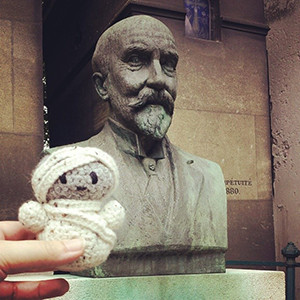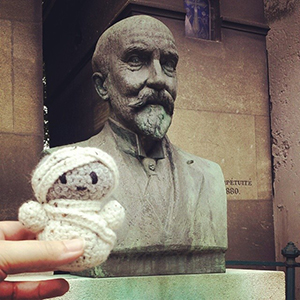 Georges Méliès, one of the fathers of fantasy cinema, was more difficult to find, and clearly less visited than Morrison or Wilde. Still, without him we probably wouldn't have a lot of the cinema we do now, and he was a genuine pioneer with his trick films and special effects. His 1896 film, Le Manoir du Diable, is possibly the very first horror film, and you can watch it on YouTube here. Due to his connections with the fantastic, Mummy was very pleased to meet him.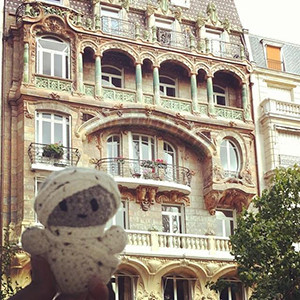 We got a ticket for the Batobus on the Monday afternoon, and had a boat ride along the Seine. We hopped off at the Eiffel Tower so I can run along to the Avenue Rapp to see the famous Art Nouveau house. It was designed by Jules Aimé Lavirotte, and it actually won him the Concours de Façades de la Ville de Paris. I'm a big fan of Art Nouveau, particularly its architecture, so it was nice to see the house.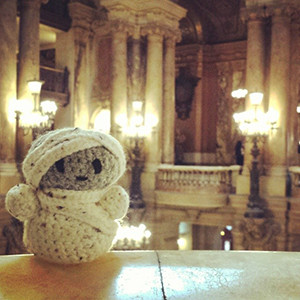 We were leaving Paris on Tuesday afternoon, so we spent the morning at the Opera House. The Phantom of the Opera by Gaston Leroux is one of my favourite books, and the musical is one of only two musicals that I can actually stand, so the Opera House was one of the things I really wanted to see. The architecture is superb, and I actually thought it was a grander building than Versailles!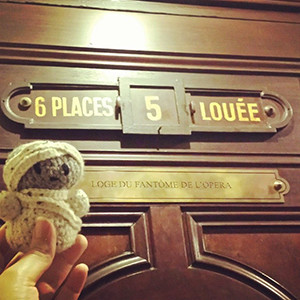 Box Five is famously reserved for the Phantom, so I just had to go looking for it – and here it is! Mummy was pleased to find it as well. It's a pity I couldn't get in, but I have to remind myself it's only a story…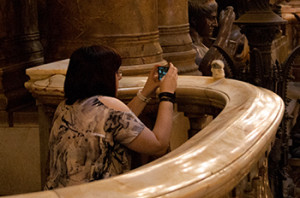 I'd also left my mother with my DSLR after she'd taken a photo of me on the balcony, so I was pleasantly surprised to find this photo on it when we got home – me taking a photo of Mummy! You can see the result of my photo above. Consider this a 'making of' shot.
I'm slowly putting my other photos up on Flickr, so you can take a look at my album if you're interested! I'm also in the process of making more crochet mummies to sell as part of my Necromancer's Apprentice merchandise range, which I blogged about here, and which you can find on Etsy.
If Mummy's adventures have made you want to read more about The Necromancer's Apprentice, it's available from Amazon, Kobo, Smashwords, and Barnes & Noble!