To someone in my part of the world, the Roman Emperor Hadrian is something of an ever-present figure. After all, he gave us the wall that snakes across northern England. Newcastle upon Tyne, my hometown, was once called Pons Aelius. That can be traced to Hadrian's family name, Aelius.
Yet I know very little about the man behind the Wall. So when I saw Bar Kokhba: The Jew Who Defied Hadrian and Challenged the Might of Rome by Lindsay Powell, my curiosity was piqued. Thankfully, Pen & Sword Books were kind enough to send me a copy in exchange for an honest review.
The Review
The book tells the story of Bar Kokhba, or Shim'on Ben Kosiba, a Jewish military leader. Unwilling to live under Roman rule, he wanted an independent nation for his people. In order to achieve this, he stood up to Hadrian in the 2nd century over control of Judaea. We normally think of the Roman army as an unstoppable war machine but in this book, that assumption is sorely challenged.
A revolt was named after him, the 'Bar Kokhba Revolt', which eventually led to the Second Jewish War. While Bar Kokhba didn't see success in his lifetime, he has indeed inspired later generations. This book explores how and why that came to be the case. It also investigates the causes of the war, while underlining what happens when two ancient cultures clash.
Powell has clearly done his research. Yes, we know some information about Hadrian, though as Powell points out, we don't know how much of this was hearsay given how little survives from his lifetime. But we know even less about Bar Kokhba. He has passed into legend by this point, so I was pleased to see him receive star billing over Hadrian. Powell brings both men to life in a way that feels realistic, without fawning over them.
This is also a high-quality production. The illustrations and maps stand out on the glossy pages, making it much easier to orient yourself in this little-known slice of history. A chronology at the beginning helps to set the scene for anyone unfamiliar with this specific period (as I was). A list of place names is also very welcome, though I loved the list of places to visit! The (huge) bibliography also offers opportunities to delve deeper.
It's a genuine pleasure to read, striking that fine balance between accessible and highly-researched. I really enjoyed it, and I recommend it to those interested in ancient history. It's also a strong read for anyone wanting to understand current events, to help explain the extremely long history of this part of the world.
You can buy your copy of Bar Kokhba: The Jew Who Defied Hadrian and Challenged the Might of Rome here.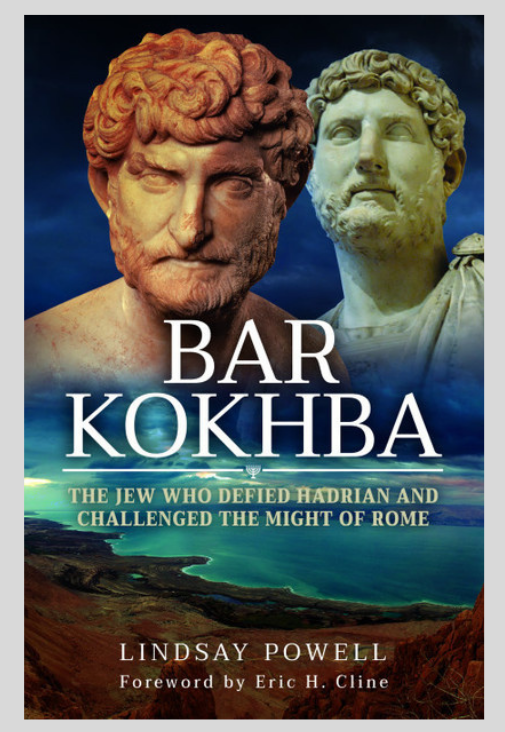 Synopsis of Bar Kokhba: The Jew Who Defied Hadrian and Challenged the Might of Rome
"In AD 132 began the bloody struggle between two strong-willed leaders over who would rule a nation.
One was Hadrian, the cosmopolitan ruler of the vast Roman Empire, then at its zenith, who some regarded as divine; the other was Shim'on, a Jewish military leader in a district of a minor province, who some believed to be the 'King Messiah'. It is also the tale of the clash of two ancient cultures. One was the conqueror, seeking to maintain control of its hard-won dominion; the other was the conquered, seeking to break free and establish a new nation: Israel.
During the ensuing conflict – the 'Second Jewish War' – the highly motivated Jewish militia sorely tested the highly trained professional Roman army. The rebels withstood the Roman onslaught for three-and-a-half years (AD 132–136). They established an independent nation with its own administration, headed by Shim'on as its president. The outcome of that David and Goliath contest was of great consequence, both for the people of Judaea and for Judaism itself.
So, who was this insurgent Shim'on known today as 'Bar Kokhba'? How did Hadrian, the Roman emperor who built the famous Wall in northern Britain, respond to the challenger? And how, in later ages, did this rebel with a cause become a hero for the Jews in the Diaspora longing for the foundation of a new Israel in modern times? This book describes the author's personal journey across three continents to establish the facts.
Drawing on archaeology, art, coins, inscriptions, militaria, as well as secular and religious documents, Lindsay Powell presents a fascinating account of the people and events at a crucial time in world history.
With a foreword specially written by bestselling archaeologist Eric H. Cline, Lindsay Powell tells the compelling story of the rebel whose legend helped found a nation: Israel."
Nutty about folklore and want more?
Add your email below and get these posts in your inbox every week.
You'll also get my 5-step guide to protecting your home using folklore!