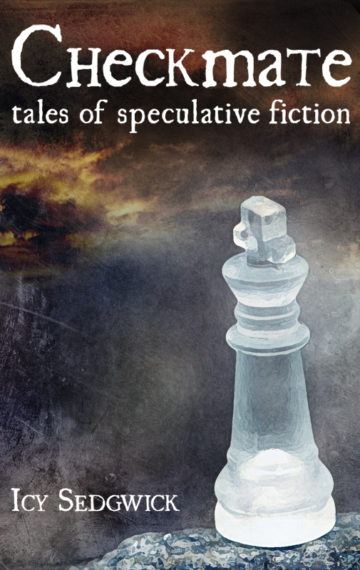 Free
Publisher:

Icy Sedgwick

Available in:

Ebook
Amazon
Non-Amazon
Checkmate: Tales of Speculative Fiction is your guidebook to the shadows and monsters of modern fairy tales.
In the title story, 'Checkmate', a devilish game of chess goes apocalyptically wrong. Elsewhere, 'Bleed Them Dry' puts a new spin on the contemporary corporate vampire, an aristocratic corpse tells his side of the story in 'The Dead Do Listen', and a little girl is fascinated with an antique that hides a dark world in 'The Mirror Phase'.
Described as "a wonderful collection of tales of subtle urban fantasy with a delicious gothic flavour", Checkmate wants to thrill you, comfort you, and creep you out.
If you enjoy the dark fairytales of Neil Gaiman, then you'll love the weird tales of Checkmate!
Reviews of Checkmate: Tales of Speculative Fiction
"Icy has an amazing ability to write dark fiction with an oft-humorous twist." – 5*
"Flowing narrative with clearly defined characters. I could hardly put down this book. The stories are very creative and entertaining with some clever twists." – 5*
"Each story is well written and draws you into its fictional world – even if it is just a short piece of flash fiction. There were two stand out pieces for me. The Mirror Phase actually brought the hairs on my arms up in a chill with a single sentence. Icy certainly hit one of my personal fears with that piece. The other that has left a real impression was My Bleeding Heart – one that everyone can empathise with in some way. Dirt cheap and a series of excellent reads. Give it a go!" – 5*
"A wonderful collection of tales of subtle urban fantasy with a delicious gothic flavour. It is clear that many of these tales are based on her real life and yet, somehow, she manages to weave magic into them in a most graceful way." – 5*
"Reminiscent of both Gaiman and Collier, Sedgwick blends irony, fantasy, and horror together with a skilled hand. Her characters are real and beliveable, which makes it all the more enthralling reading the situations she puts them in. Worth every penny and then some — read this book!" – 5*
"A superbly written collection, full of surprises and innovations and better than many similar works I've paid for! Highly recommended for the horror, sci fi, and fantasy fan; entertaining and powerful!" – 5*