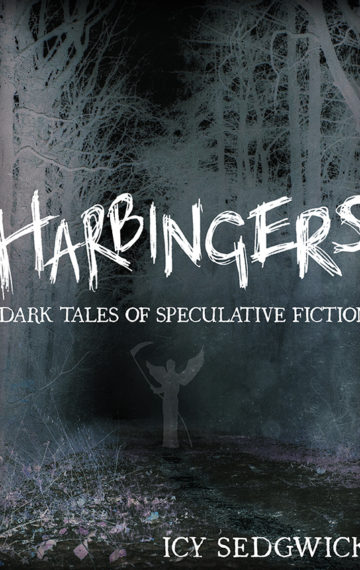 £2.99
Publisher:

Icy Sedgwick

Available in:

Kindle, EPUB, Paperback
Amazon
Other Stores
Gothic ghosts and goddesses.
These 15 tales of the weird and wonderful are collected together for the first time, spanning fantasy, horror, sci-fi and speculative fiction. Harbingers is a veritable Cabinet of Curiosities for fans of weird tales! If you enjoy the writing of Neil Gaiman or Ray Bradbury, then you might just see the wonder by strolling through these dark shadows.
In the title story, 'Harbingers', portentous visitors try to warn a young woman who fails to grasp their importance; a washed-up actress seeks to prolong her pact with a Greek goddess in a hotel bathroom; a porcelain woman awaits the return of her maker on a lonely rooftop; and a Resurrection man rethinks his career choices in Victorian London.
Harbingers also includes the pulp adventure tale, 'One Woman Cure', and a Grey O'Donnell ghost story, 'A Christmas Ghost Story in the West'.
Reviews for Harbingers
"Icy's storytelling throughout is crisp yet descriptive. Her writing style is haunting and evocative one moment, then lightly humorous, macabre, or wistfully sad the next". – 5*
"With impressive economy Icy sketches stories that quickly draw you into her world only to sucker punch you with an ending you never saw coming. Some of her shortest stories are sketches painted with a miniaturists' precision". – 5*
"A cracking good, spine-tingling collection of stories. Supernatural stories are often either unnecessarily gory, or over-the-top dramatic, but these stories are neither. Inventive, cleverly conceived and utterly riveting". – 5*