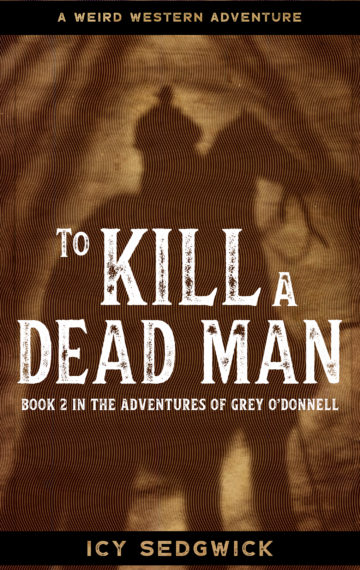 Publisher:

Icy Sedgwick

Edition:

2

Available in:

Kindle, EPUB
Kindle
Kobo
All Other Stores
Sometimes the West is weird, as well as wild.
Grey O'Donnell is back to normality after the events in Retribution six months before. He and partner Billy Cole are hunting down a fugitive with a large price on his head, and what should have been a routine job takes a turn for the weird when they follow the trail to an abandoned mining encampment.
Something unnatural lurks in the trees near Bentley, and when the living dead pay a visit to the town, Grey enlists the help of a Ute medicine man to fight them off.
Trouble is, the love of Grey's life has gone missing, and he's not about to lose Peggy a second time.
Reviews of To Kill A Dead Man
"The writer has a natural easy going style and offers a few twists I wasn't expecting. A very good storyteller and read" – 5*
"Icy tells a great tale. I have read a number of her books and short stories and I follow her blogs. In To Kill a Dead Man she places Grey O'Donnell in some classic Western scrapes…and some that are not so classic…all of which lead to a fun and engaging read. I read it in two sittings – two ends of my daily commute – and now I am going to re-read Guns of Retribution and Dead Man's Hand because I've rekindled my love of Westerns!" – 5*
"Icy tells a great tale. I have read a number of her books and short stories and I follow her blogs. In To Kill a Dead Man she places Grey O'Donnell in some classic Western scrapes…and some that are not so classic…all of which lead to a fun and engaging read" – 5*
"Read in just one sitting, this one is the sillier (in a good way) of the two Grey O'Donnell's I've read. A quick, fun read and easy to picture tale in which a lot happens" – 4*