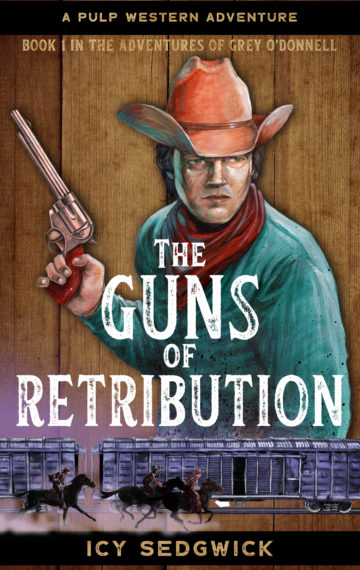 Publisher:

Icy Sedgwick

Edition:

3

Available in:

Kindle, EPUB
Kindle
Kobo
All Other Stores
Sometimes there is more than one bullet with your name on it.
The search for a murderous outlaw has brought the long roving Grey O'Donnell near to his hometown of Retribution, Arizona.
Bounty hunters might not be popular but old fashioned manners, kindness to regular folk and a face for the ladies make Grey an exception when he rides into town.
Grey has a job to do, upholding the law when others won't, like the odious Jasper Roberts who has made himself Sheriff of Retribution and who has a personal score to settle with Grey.
Reviews of The Guns Of Retribution
"The Guns Of Retribution is a joy, containing all the action and adventure of an old school western but with a – not overbearing- modern point of view. I assume that this won't be the last we'll see of Grey O' Donnell and his sidekicks and I'll certainly be around for the next instalment" – 5*
"Icy Sedgwick has clearly done her research–the short novel is laced through with convincing bits of regional and historical asides. But to her credit, she doesn't get bogged down in it. The story moves swiftly through a lot of very playful dialogue and action. There's very little exposition, and that's as it should be. Grey is a very likeable hero; I couldn't help but think he'd get along well with Edward Grainger's Cash Laramie. Overall, The Guns of Retribution feels like a single episode in a longer saga, which I hope is an indication of more Grey O'Donnell to come." – 5*
"I loved this story so much. Grey is an endearing, strong, yet vulnerable character that goes through the full spectrum of emotions in this Western. The details are well-researched and Icy has a way of setting the reader firmly at the scene as if it's unfolding before them. For such a small cost, you can't afford to let this sort of unusual reading experience pass you by." – 5*