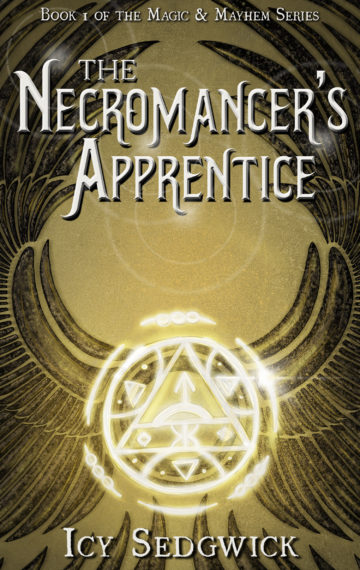 0.99
Publisher:

Skolion

Editor:

Nerine Dorman

Edition:

3

Available in:

Kindle, Paperback, ePub
Kindle
Kobo
Other Stores
Magic, Mayhem, And… Mummies.
Though Jyximus Faire lives in a crumbling tenement in the Underground City, he escapes the squalor to attend lessons in magic and sorcery at the prestigious Academy in the City Above. But the pace isn't fast enough for Jyx. He wants to learn everything – and he wants to learn it now.
Then the dreaded necromancer general Eufame Delsenza sets her sights on Jyx; she needs a new apprentice, and Jyx fits the bill. When she tasks him with helping to prepare royal mummies for an all-important procession, the impatient student realises this might be a chance of a lifetime.
Will Jyx take his education into his own inexperienced hands? Can a necromancer's apprentice really learn to raise the dead – and control them?
The Necromancer's Apprentice is the first book in the dark fantasy Magic & Mayhem series. If you like Harry Potter, Tim Burton or Neil Gaiman, then you'll love Icy Sedgwick's quirky retelling of a classic apprentice story.

Reviews of The Necromancer's Apprentice
"This is my first experience with this author and I have to tell you, it was a great one. This book has a nice little twist at the end, and the writing moves along at the perfect pace. I can't wait for the author to tell more of Jyx's story" – 5*
"Not only that, but for a short read, Icy did a TON of world-building! Just from this quick, concise novella, she's generated a world that could be plumbed for all sorts of great stories in the future… nudge, nudge, Icy. Plus, it's got mummies, wolf-soldiers, mayhem, and all kinds of magic! The big confrontation at the end is a hoot, and an excellent capper to a fine tale" – 5*
"I really enjoyed this little book. The story sucked me right in, with the crisp non-flowery yet imaginative descriptions, the charming dialogue and Jyx's juvenile clumsiness. In fact, I'd say this was the best book I've read this year. Recommended for fans of Harry Potter, Disney, classic horror movie buffs, and children of middle-to-old ages" – 5*
Who is the skeleton in the floor?
Jump into a world of magic, mummies and mayhem with this free story! You'll also get a monthly email of free stories, book recommendations, and cool stuff.