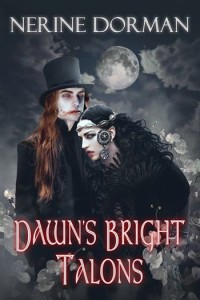 It must be noted that, aside from a few exceptions (like Crooked Fang), I'm not usually a huge fan of vampire novels. That said, I can honestly put my hand on my heart and recommend Nerine Dorman's latest, Dawn's Bright Talons, with the most enthusiasm imaginable. It's not often that I end up so engrossed in a book that I almost miss my stop on the train, yet this book managed exactly that.
Dawn's Bright Talons is a dual point-of-view novel, told by both Isabeau and Michel. Isabeau starts out in the book as a dancer at the Moonlit Garden, while Michel is the vampire manager of his own theatre, the Hall of Mirrors. They're thrown together through circumstances that neither of them could predict, and end up as small pawns in the games of power being played by the ancient vampires who run the city of Ysul.
The dual perspective and its exotic setting are, to my mind, the aces up this novel's sleeve. Readers are given the opportunity to get to know both protagonists, and an interesting quirk eventually allows them to share the page, even when the other is not physically present. Ysul feels like a melting pot of every fantasy and alt-history city you've ever imagined, and it comes across like the meeting point of Anne Rice's New Orleans and even Alexandre Dumas' Paris.
As with all of Dorman's work, Dawn's Bright Talons is an inventive story that weaves a wider backstory as political machinations grind into gear behind the scenes due to the fallout that accompanied the city's colonialisation. Bigger themes are at work here, and you can either read it as a fun vampire novel, or see deeper ideas. The vampires here are not the vapid pretty boys of Rice's novels, but nor are they the ugly nosferatu of German Expressionism. Michel is a fairly useless vampire, being neither super strong nor well versed in his own lore, but this is precisely why he's such a good protagonist – there is a very real possibility that he could fail, and badly. I wasn't as keen on Isabeau, finding her narration a little implausible as she's supposedly only around sixteen years old, and she takes longer to warm to. Still, there's an interesting mythos in here that definitely requires further expansion.
It's a fast-paced story, and I was struck by how much I could see exactly what was going on. It's also highly engrossing, and I can't recommend it enough. In fact, it gets a very rare 5 out of 5 from me!
If you'd like to try and win a copy of the book, check out Nerine's guest post about it here, and leave a comment!