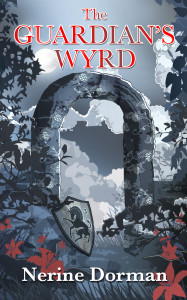 Young Adult fiction can sometimes suffer from the notion that it's somehow not for grown ups, despite the success of series like Harry Potter among adults. Thing is, it's a thriving classification, featuring strong stories and incredibly likeable characters – and it's totally okay to like it!
Nerine Dorman, purveyor of titles such as Camdeboo Nights and Inkarna, has turned her pen to YA with latest release, The Guardian's Wyrd. I had her over at the Cabinet of Curiosities a couple of weeks back to talk about it, as well as her writing process. But now it's time for the review! Here's the blurb.
Sometimes having a fairytale prince as a best friend can be a real pain.
Jay didn't realise that sticking up for Rowan, the gangly new kid at school, would plunge him into the dangers and politics of the magical realm of Sunthyst. But if anyone is up for the challenge it's Jay September. With his trusty dog, Shadow, at his side, he braves the Watcher in the dark that guards the tunnels between the worlds, and undertakes a dangerous quest to rescue the prince.
It's a race against time – can he sneak Prince Rowan away from under King Lessian's nose and bring him safely back home – all before the prince's sixteenth birthday? Or is Rowan's mother, the exiled Queen Persia, secretly trying to hold onto her power by denying her son his birthright?
Jay is ready for anything, except, perhaps, the suffocating darkness of the tunnels. And that howling …
As with most stories that deal with magical or mystical realms, the book opens in modern day South Africa, where Jay September is a frustrated loner who dreams of rock stardom. He sticks up for the new boy in school when Rowan is bullied, and a bizarre friendship springs up between the two. Rowan is clearly looking for a friend, while Jay is drawn by his desire to explore Amberlee, Rowan's strange and rambling house. An afternoon exploring in the grounds leads the boys through the tunnel to Sunthyst, and when Rowan is snatched by his uncle, Jay is half tempted to leave him there. Eventually his conscience gets the better of him, and he ends up being enlisted by Rowan's mother, the exiled queen, to rescue her son.
The Guardian's Wyrd features a whole host of interesting races, such as the forest-dwelling Skree, barbaric werewolves, mysterious Watchers that guard the tunnels, as well as Oryxis, the aloof guardian who promises Jay that he'll teach him how to use magic. I wasn't wholly keen on Jay at first, seeing him as the sort of sullen teen I encounter all too often, but his discovery that not only is magic real, but he can also wield it, seems to provoke some sort of burgeoning conscience, and he becomes the sort of hero you can actually root for. Rowan is perhaps the least interesting character of the book but he has plenty of time to develop in the next title of the cycle. I also want to see a lot more of the Skree!
The Guardian's Wyrd might be classified as YA but don't expect some cute or fluffy tale. It is visceral and wrenching, and perfectly suited to those who like their fantasy on the darker side.
Five out of five!