I'm terrible for starting projects and never finishing them, be they novels or craft-related ideas. I always think I'll get to something "eventually" but eventually never arrives! So it was quite handy that the latest #craftblogclub challenge was called 'You Complete Me', with the idea being that we finished a project we'd had outstanding for a while. Originally I'd planned to finish a knitting project but going away for a week at the end of June put paid to that, so instead I decided to finally finish the pendants I'd made using a microwave to fuse glass (original post is here). The glass pieces were ready back in April…so it's taken me a while!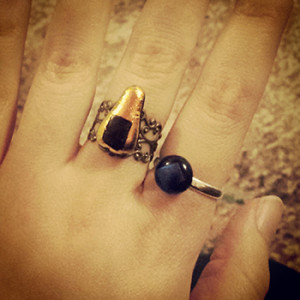 Using epoxy adhesive, I glued the two smallest pieces to ring bases – I felt the orange pear-shaped drop better suited the antique bronze filigree base, and the blue dome looked better on silver. I'm actually pretty pleased with how they turned out!
Next I turned my attention to the pendants themselves.
I decided to hang the orange and black lump from bronze chain, so I attached a bronze bail to the back with more epoxy adhesive, while my 'sail boat' piece ended up on a silver bail on a silver chain. The other two pendants are on silver bails, but they hang from either white leather cord, or grey leather cord. Here they are in more detail.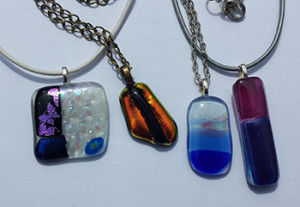 I think the one I'm most proud of is the 'sail boat' one. The bottom third is dark blue, the middle third is a mid-blue, and the top third was originally clear, with an orange foil triangle that looks like the sail of a boat. I painted the back of it with pale blue and white acrylic paint to look like sky.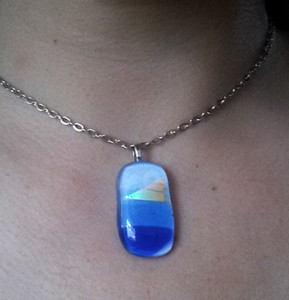 I'm so glad we had this challenge to give me the kick I needed to finish them!
What about you? How do you go about inspiring yourself to finish projects?