Monte looked at the book lying on the table. No name was emblazoned on the spine or cover.
"Seems like a pretty big book to be lugging around," he said. He knocked back the last of his whiskey, winced, and put down the glass.
"Important things are no burden." The man across the table smiled, displaying ferocious rows of dagger-like teeth. Monte shuddered.
"You won't find many down here wanting to read." Monte gestured to the pub's other patrons, a motley crew of drunks and night ladies. A troll in the corner threw him a hard glare.
"Good. The contents of this book are not for them." The man returned the troll's glare.
"So why are you telling me about it?"
"Firstly, you are familiar with death, and have a certain apathy towards it. Secondly, I get the sense you can actually read."
Monte tried not to beam with pride. He'd always wanted to be seen as an educated man, not the grave digger he actually was. This stranger, this man, had finally noticed what everyone else ignored.
"I can. But I'm not the only one in here – you see that guy by the bar?" Monte pointed out a tall, gaunt man with long grey hair and a matted beard. His hangdog expression told Monte that the four pints of Bezziwig's Broken Heart Basher had not yet begun to work.
"I do."
"That's old Crompton Daye. He's a wizard."
"Ah, a wizard will not suit my purposes. I need someone who can read but is not keen to use their mind unsupervised. Someone who will not necessarily think for themselves."
Monte scowled, his previous pride deflated.
"Oh don't look so piqued, my good man. I simply mean that wizards are too unpredictable and contrary. I need someone solid, and dependable."
"What do you need someone for?" asked Monte. He tried to remember how the conversation had started but he could only remember arriving at the pub, and then the book. There was nothing in between.
"I'm currently conducting what you might call an experiment, although it's also a bit of a quest, in its own way. You see, that is a book of last words, and I need someone to help me once I've heard the last words I'm looking for."
"Eh?"
The man leaned closer and lowered his voice. "I visit the dying as they lie on their death beds, and I collect their last words. My work is partly out of a desire to record for posterity the final statements of the dead – you could consider it a work of social history."
"But which ones are you looking for?"
"Excuse me?"
"You said you needed my help once you'd heard the ones you were looking for."
"Ah, my good man, you are sharper than you appear."
Monte beamed again.
"Well I need your assistance because I believe that among the citizens of this great city is one who knows the location of a certain artefact. It goes by many names, but the one I prefer is the Heart of the City. He who possesses the heart…"
"Possesses the city", finished Monte.
"Exactly. I began my project in order to gain access to people on their death beds, which is ultimately the only place where man will speak the truth, and I'm yet to hear what I'm waiting for. Though I believe I shall, and soon, and I shall require your help once I do in order to locate the Heart."
"I've already got a job though," replied Monte. He'd heard stories about the type of work men could find in the pub – and the trouble that usually followed. Besides, Myrtle would kill him if she found out he'd given up the grave digging for nothing. It didn't pay well, but any salary was worth having in the Underground City.
"I realise that, which is why I shall pay you more. How about a gold crown now, and a half crown for every week that you are in my employ?" A flash of gold streaked across the man's knuckles.
"I'll do it." Monte agreed before he'd even made up his mind to do so. The man reached underneath the table to pass Monte the coin, and he shoved it into his trouser pocket. Myrtle would be so pleased that she might even be nice to him.
"When do we start?" he asked.
"How about now? I do believe there's a man upstairs who won't be in this world much longer."
The man stood up and headed towards the bar, with Monte following behind. As the barkeeper widened his eyes and nodded to the man, Monte half wondered exactly what he'd gotten himself into.
* * *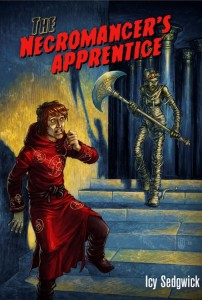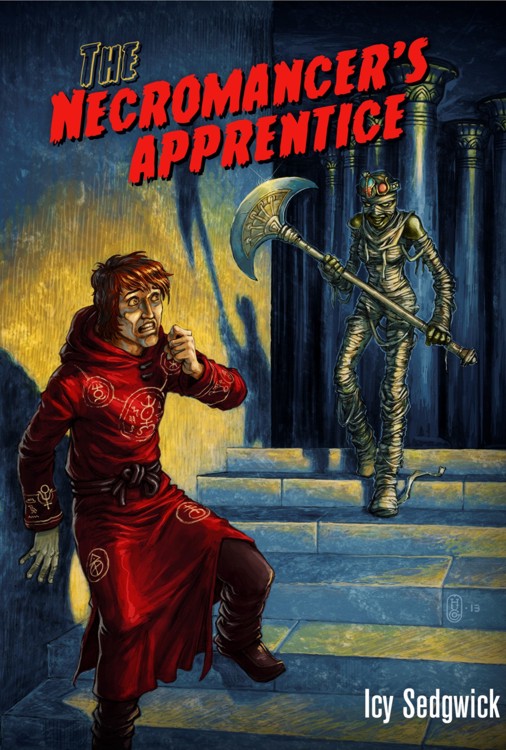 This is another story set in the world of my new novella, The Necromancer's Apprentice. I started my blog tour to promote it on Monday, and you can still grab a copy for the Kindle, the Nook, and the Kobo! Matt R. Jones says that it's "recommended for anybody who likes fantasy of any sort, and honestly… you don't have to even dig fantasy to enjoy this story", while R.L. Bailey described it as being better than the Harry Potter books!
(The main image for this post is by Hux)