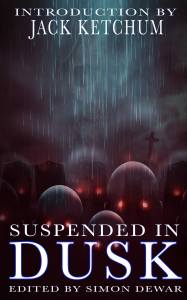 I posted a little while ago about having a story in a new anthology, Suspended in Dusk, edited by the lovely Simon Dewar, and featuring an introduction by Jack Ketchum. Isn't that a fabulous cover?
Well it's been causing quite a buzz, earning some wonderful reviews over on Goodreads and Amazon! I'm really pleased to be part of it, and to be sharing book space with such fabulous authors.
The best part, though, is that it is currently FREE on Smashwords in e-book format until Halloween. That means you can grab it for devices that support ePUB, MOBI, PDF, and even HTML, if that's what you fancy. Simply head over to Smashwords, following this link, and add the coupon code DA68M at the purchase point, and it'll be all yours…for free!
My story, A Woman of Disrepute, is fourth in the collection, and I wrote a blog post here about the inspiration for the story, including the prostitutes sanctioned by the Bishop of Winchester, and Crossbones Cemetery.
Check the whole anthology out and let me know what you think!