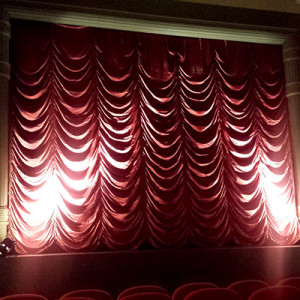 I've been a lover of cinema for as long as I can remember – as artform, vehicle for documentary and purveyor of entertainment, it's certainly a versatile medium, and one that does, and should, go beyond the confines of CGI and big star names. So when I saw that my local independent cinema, the Tyneside, was showing A Night at the Cinema in 1914, I felt I had to go and see it. The film is a compilation of travelogues, newsreels, comedies and short pieces from the BFI's archives – certainly a far cry from the lengthy single feature programmes that modern audiences are used to. In addition, the film was screened with traditional piano soundtrack (albeit not live, which would at least make the experience feel more authentic but would make the film less accessible for multiple screenings). As part of the mass investigation into the cultural climate of 1914 to coincide with the centenary of the Great War, A Night at the Cinema in 1914 aims to emulate exactly what the title indicates.
It was certainly a fascinating experience. Watching silent cinema is a very different experience to sound cinema, and the array of films included was so unlike anything that we're used to in the twenty-first century. 1914 is a long way from the lengthy feature films that we know now, so this sort of 'compendium' format is almost entirely alien to modern cinema goers. Most notable among the films was one of Charlie Chaplin's first appearances as the Little Tramp in Making a Living – it certainly wasn't as funny, or poignant, as later films such as Modern Times or The Gold Rush, but you could clearly see the potential in his Tramp character.
Other highlights included Lieut. Pimple & The Stolen Submarine, an extremely low-budget comedy starring comedian of the age, Fred Evans, in a film that revelled in its cheap sets and props, but was so delightfully silly that it showed the genuine promise afforded by early cinema, even if you didn't have a lot of money. Daisy Doodad's Dial, a story about Daisy Doodad and a face-pulling competition was also amusing, and dabbled with the sort of double-exposure trick photography pioneered by Georges Méliès. Newsreels showed noteworthy events such as an early pilot attempting a loop-the-loop at Hendon airfield and the arrest of suffragette Emmeline Pankhurst, as well as footage of the Archduke Franz Ferdinand shortly before his assassination, and the British troops enjoying dinnertime at Christmas 1914 at the Western Front. A particularly biting animation by Lancelot Speed named Bully Boy demonstrated the potential links between illustration and animation, tossing satire into the mix to end up with an anti-German propaganda piece. Unfortunately I couldn't find this last piece on Youtube but I did find one of Speed's other shorts, to give you an idea of his style. You can find it here.
One thing I found notable among a lot of the films was the lack of cue cards – clearly audiences in 1914 were familiar enough with recurring characters within serials that the cards were unnecessary for explaining action, and audiences were savvy enough to be able to read this visual language which was essentially lost with the coming of sound in the late 1920s. Why use facial expression, body language or posture to communicate when a character can simply say what they think? Cinema in 1914 was still a relatively new phenomenon, so this level of sophistication in understanding action undermines some of the thinking that early cinema was somehow 'primitive'.
I'm familiar with cinema post 1918, particularly German Expressionism and French Surrealism, but I'd never had much of a chance to see pre-1918 films – largely due to their scarcity. It was also nice to see a range of British films within the programme, although Daisy Doodad's Dial, a Pearl White short about her recurring heroine, Pauline, and the Chaplin film demonstrate the features coming out of Hollywood at the time. The comedies certainly point to a sort of anarchic sense of humour that can be seen in British comedy, particularly on television, throughout the later decades of the twentieth century, and although I enjoy a lot of Hollywood's output, it is a shame that a lot of the mainstream cinema has become so homogenised by its influence.
A Night at the Cinema in 1914 also points to just how important film can be within social history – it's easy to think of cinema has being throwaway entertainment, but viewing such a varied programme from a twenty-first century viewpoint gives a real insight into social attitudes a century earlier. We don't have to read about what was important, or what was shown – we can see it for ourselves, and experience it in as authentic an environment as possible. Plus, it adds a connection with society a century ago – a girl my age could have gone to see films like this, all the while knowing that her brother, husband or father were going off to war. How would she have felt?
Viewing old footage in a modern context also adds an air of poignancy to what you watch – one of the newsreels showed footage shot in the supposedly neutral Belgium in August 1914, after the town of Louvain was devastated by German troops. Footage of civilians picking through the remains of their homes, searching the ruins for their belongings, seemed all too familiar, and just goes to show how time may change, but humanity certainly doesn't.