I work at a local college among lots of other lovely creative people, and we recently had a staff exhibition to display all of the work that goes on outside of everyone's normal day jobs. It ranged from illustration and textile design to photography, animation, fine art and ceramics. I hadn't originally intended to put anything in for it, but eventually I decided I'd display some of my jewellery and knitwear.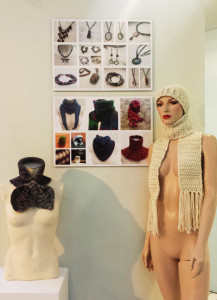 The boards feature a mixture between work that is for sale, and work that I've done for myself. In a way, they also demonstrate what I do digitally due to the strict grid system that I adhered to when putting the boards together. The collar/scarf on the left is one of my own, while the hat and scarf on the right are for sale on Etsy. They're made from Women's Institute yarn, which is surprisingly soft and an absolute delight to work with (so it's a shame it's only available at Hobbycraft…)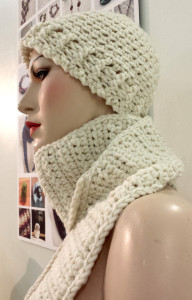 It was interesting because while those with whom I share an office know that I knit, crochet and make my own jewellery, a lot of people that I see on a daily basis didn't! It was also cool to see what everyone else does – we often get quite caught up in the 'day job' and don't always have time to ask what people do as freelance practitioners. A lot of the staff are also bad at self promoting, and don't like to blow their own trumpets, so it's been a good experience to really enjoy what everyone can do.
The exhibition also showed that what you expect someone to do isn't necessarily how they spend their time. I teach graphic design and illustration, particularly the Adobe Creative Suite software, and while it's true that I do produce book covers outside of work (most notably Lost Children and The Guardian's Wyrd, both by Nerine Dorman – in each case, I did the layout and typography while others produced the artwork), my main non-academic interest is my Icy Handmade sideline. People expressed surprise that I'm known for teaching digital skills, particularly Photoshop, yet I was displaying textiles!
I'm immensely proud of what I make, and how far I've come in a relatively short space of time. I've been knitting since around 2008, and I took up crochet seriously some time last year, and I've been making jewellery since mid-2013 – but there are lots of future plans that I'd like to see come to fruition. I also managed to sneak a photo of Mummy into my textiles board, so her #mummyselfie from the British Library appeared! She does love promoting The Necromancer's Apprentice wherever she can, and I suppose in a lot of ways she likes promoting herself. Look at that smile!
If you're a crafter, have you ever displayed your work?