Dog-headed men, or cynocephaly, are a true curiosity within myth and legend. Not to be confused with werewolves, the beings are literally men with dogs' heads.
The Greeks named the creatures, apparently taking their inspiration from Egyptian gods. Most famously, Anubis boasts the head of a jackal. Although, in recent years, scholars realised his head is that of a wolf. The Egyptian jackal is not actually a jackal, but a member of the grey wolf family.
Evidence also suggests the baboon could explain the dog-headed man myth. That said, the confusion over baboons is more closely linked to the Japanese man-faced dog legend. We're concerned with dog-headed men.
Confused yet?
Anubis
I feel Anubis deserves his own section since he's perhaps the most recognisable example. That's particularly true since his crossover into popular culture. (Don't worry, I'm not going to get on my soapbox about Hollywood's misappropriation of the noble god in The Mummy Returns. In the film, an army of Anubis-like creatures become the invading horde our hapless hero needs to defeat).
Anubis is the often maligned god of the dead in ancient Egypt. Far from being a terrifying deity, he was a protector of tombs, the patron god of embalmers, and the guide for souls coming into the afterlife.
Some believe his form as a jackal came as a response to the desecration of shallow graves by opportunistic jackals searching for food. He was originally the god of the dead in the Old Kingdom. That role passed to Osiris in the Middle Kingdom. The Greeks and Romans even associated him with Cerberus and the underworld.
It was the figure of Anubis that inspired my own dog-headed men in my dark fantasy novella, The Necromancer's Apprentice. Called Wolfkin, these muscular beings are definitely the strong, silent type. You can buy the book from Amazon. Or you can also read my super-short story, Wolfkin, which gives a voice to these noble creatures. One of them finally made it to the cover in book 2, The Necromancer's Rogue.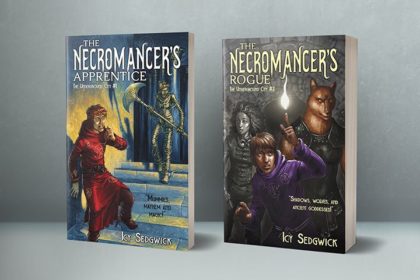 / shameless plug
In early depictions, Anubis takes the form of a black wolf. His colour represents the colour corpses turned during mummification. He became a wolf-headed man during the Middle Kingdom. Given the proliferation of wall paintings and the crossover of religions between Egypt and Greece at sites like Thonis-Heracleion and Canopus, it's hardly surprising that dog-headed men appear elsewhere in historical texts.
Dog-headed men in antiquity
Greek physician Ctesias wrote about the existence of dog-headed men in India back in the 5th century BC. His report also included unicorns, satyrs, and men that reached 18 feet tall. A second century AD satirist actually condemned Ctesias to a specific part of hell reserved for liars. So we can probably ignore his report.
If his book had had pictures, they would have no doubt included the engraving below.
From left to right, it shows; a monopod or sciapod, a female cyclops, conjoined twins, a blemmye, and a cynocephaly.
Or can we rule him out so quickly? Megasthenes, a Greek traveller, reported seeing dog-headed people in India, too. According to him, they used barking to communicate with one another. They wore animal skins and lived as hunters.
Perhaps Ctesias wasn't too far off the mark after all. Even Herodotus references dog-headed men. He notes that ancient Libyans claimed the creatures lived in their lands.
But why dog-headed men at all? The figure collapses human and animal into one package, perhaps referencing the savage nature of mankind. Though anyone who has ever owned a dog might argue the figure represents the noble, loyal aspect of human nature!
In many of the tales, the dog-headed men gain a warrior-like aspect. You have to wonder if they weren't tall tales. After all, what else would strike fear into the hearts of the enemy?
The cynocephaly and Christianity
Different branches of the church choose different representations for their religious icons. The Eastern Orthodox Church gives St Christopher a dog's head in a range of images. Many believe the identification comes from a mistranslation, turning 'Canaanite' (or Cananeus in Latin) into 'canine' (canineus).
A German bishop, Walter of Speyer, thus paints St Christopher as a dog-headed man, feasting on human flesh until he meets Christ. Once baptised, Christopher gains a human appearance and devotes his life to God.
Marco Polo even mentions dog-headed men. His Travels talks about cynocephaly living on the Andaman Islands. For Polo, they are barbarians and cruel, likened to mastiffs. This is an interesting development since most depictions use a lupine head for the creatures.
A Buddhist missionary discusses an island populated by dog-headed men. The island has been identified both as Japan and the Americas. That links back to the man-faced dog legends of Japan, but it's the first mention of dog-headed men in America.
Could these dog-headed men be the ancestors of the Michigan Dogman? First reported in 1887, the Dogman was immortalised in 1987 by a local DJ. There have been over 100 reports of Dogman sightings since then.
It's interesting that the dog-headed men never live in the same countries as those writing about them. They somehow represent the wild savage nature of the Other, the strange inhabitants of unknown and distant lands.
It's not all bad news
These depictions are all fairly negative, despite the legend's apparent origins in the benign figure of Anubis. But Celtic folklore offers an alternative.
Look at the Wulver in the Shetland Islands. This creature is no werewolf; rather a man with a wolf's head. They live in caves and enjoy fishing. Some tales even claim the wulver left fish on the windowsill of poor members of the community.
Likewise, Irish folklore boasts the Faoladh, a werewolf that protects children and guards wounded men.
Both of these versions of the dog-headed men represent the loyal and caring side of our canine friends. The earlier depictions focus on the savage, animalistic side of dogs.
I prefer to think of them as being more like Anubis. Silent, peaceful, and completely loyal to their companions. How about you?
If you enjoyed this post, sign up below and get them delivered to your inbox every week. I'll even throw in a collection of stories inspired by changeling folklore!
Nutty about folklore and want more?
Add your email below and get these posts in your inbox every week.
You'll also get my 5-step guide to protecting your home using folklore!