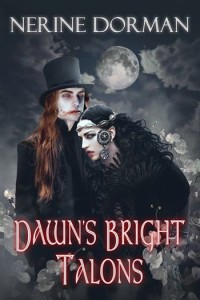 I've always been a fan of Nerine Dorman, and I'm pleased to let her set up a stall here at the Cabinet of Curiosities to tell you all about her latest offering, Dawn's Bright Talons. Take it away, Nerine!
A toothsome morsel…
Something for which I'm eternally grateful for at present is the fact that the whole thing about vampires seems to have died back. Tweelight fever is over. I don't hear much about True Blood or The Vampire Diaries either. Vampire aficionados can breathe a sigh of relief while it appears that YA dystopia and perhaps even zombies have nearly run their course until the Next Big Thing comes along.
Who knows what that will be, but you can be pretty sure it won't be vampires. At least for a while yet. And I'm hoping for it to be a while, because the vampire, in my mind is such a wonderful character to play with in fiction.
I used to love role-playing when I was younger, and I think if I had half a chance (and more time) I'd definitely have a regular gaming group going. At present, however, that's not to be, and even when I still roleplayed a few years ago, I was a frustrated author at heart. Players kept destroying my carefully constructed plots whenever I was in charge of a campaign.
Which brings me back to vampires. As characters, they're fantastic. There's the slight case of immortality tempered with an allergy to sunlight (I'm a huge fan of giving characters serious flaws so that they're not superhuman), and they have other aspects, that I often feel are underplayed, and I wish authors would look beyond the obvious.
A love affair between a human and a vampire can only end in a few ways: the vampire loves the human until they die; the vampire turns the human into a vampire; or the vampire finds some sort of way to turn human again. It's old, my friends, old, old, old. What are some of the other cool things a vampire can do or be (besides a kickass private detective or rock star).
I've always loved the idea of vampires who are able to pursue their passions indefinitely due to their condition. This gives them a unique perspective through ages when others are ephemeral. What if you have a vampire who's an archaeologist a la Indiana Jones? Or a vampire who has definite interests, like trying to get a space programme off the ground? What about a vampire who really enjoys his unlife instead of moping about a One True Love who died during the seventeenth century and now he'll never get over it?
Perhaps a good starting point is to ask yourself, what would *you* do if virtual immortality was within your grasp? In fact, let's hear from you, and let Icy be the judge. The best comment on this blog post receives a digital copy of Dawn's Bright Talons, my most recent fantasy novel.
They are as night to day–but blood will tell when facing a common enemy.
A sought-after dancer in the upmarket Moonlit Garden, Isabeau Letier, has not given her future much thought. All that matters is the art of dance, and charming wealthy patrons into parting with a few extra coins. She has her exotic good looks and her youth. What could possibly go wrong?
When a mysterious nobleman pays her undue attention, Isabeau's darker, bloodthirsty nature awakens and she kills him with her bare hands after he follows her home. Even worse, she drinks and enjoys his blood. Her brother, Eric, returns home to this disturbing tableau yet remains calm even as the corpse sifts to ash in the morning sun. Isabeau has no choice but to follow her sibling's lead.
Not many people know that Michel Roux, owner of a slightly down-at-heel theatre in the District of Paper Lanterns, is a vampire. He prefers to keep things that way and steer clear of the petty politicking of the city's vampiric subculture. When his estranged sire, Tomas, goes missing, and his grandsire sets him the task of solving the mystery, Michel is unwillingly dragged into all of the very dangerous games he thought he'd left behind him.
Isabeau and Michel become unlikely allies as they try to wriggle their way out of being the pawns in a game where they don't know the rules. Isabeau's ancient heritage is a danger, not only to herself, but to the established hierarchies at odds with one another in the city of Ysul, and the elders are desperate to either control her–or kill her.
As events unwind, it becomes increasingly difficult to separate friend from foe, and as the two flee for their lives they must also explore the true nature of the bond that they've forged and uncover the ages-old secrets that have pushed them onto this path. Warring factions are about to overturn centuries of custom, and two young people are marked to pay the price—in blood.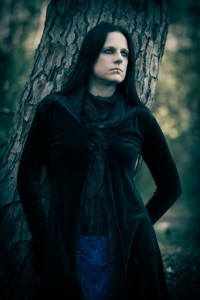 Thank you Nerine! You can buy Dawn's Bright Talons on Amazon or Smashwords, and you can stalk Nerine on Twitter at @nerinedorman, or sign up for her newsletter here!
An editor and multi-published author, Nerine Dorman currently resides in Cape Town, South Africa, with her visual artist husband, and has works published by Kensington, Dark Continents Publishing, eKhaya, Tor Books and Immanion Press. She has been involved in the media industry for more than a decade, with a background in magazine and newspaper publishing, commercial fiction, and advertising. Her book reviews, as well as travel, entertainment and lifestyle editorial regularly appear in national newspapers. A few of her interests include music, travel, history, Egypt, art, photography, psychology, philosophy, magic and the natural world.
But why not try to win a copy? Simply comment on this post telling me what *you* would do if virtual immortality was within your grasp! The best comment on this blog post receives a digital copy of Dawn's Bright Talons.