Are you tired of spending hours writing and rewriting your copy? Does 'write content' keep bouncing down your to-do list?
Or do you just want to spend your time on the work you do best, and hand your writing needs to an experienced professional?
Then I can help! I specialise in both copywriting and content for coaches and online course creators.
Icy makes writing for the web seem effortless. She has a very shareable and engaging style and a fantastic understanding of blogging, social media, technology and marketing that all work together to deliver incredible value to her clients. I'd been looking for a long time for a content writer I was happy with to supplement my own work, and I'm so glad I found Icy!

Claire Wingfield
Check out these writing services.
Web Copy
Your website is your online shop window.
With that metaphor in mind, would you fill your shop window with rubbish? Or have a display that used to be beautiful…only now it's covered in cobwebs and dust?
In the same way your shop window needs to entice your ideal customer, so your web copy needs to entice your target audience. It needs to speak to them.
I can create web copy to speak to your audience and encourage them to take action.
I recently rewrote the home page copy for Love With Intelligence. Where it once looked like this…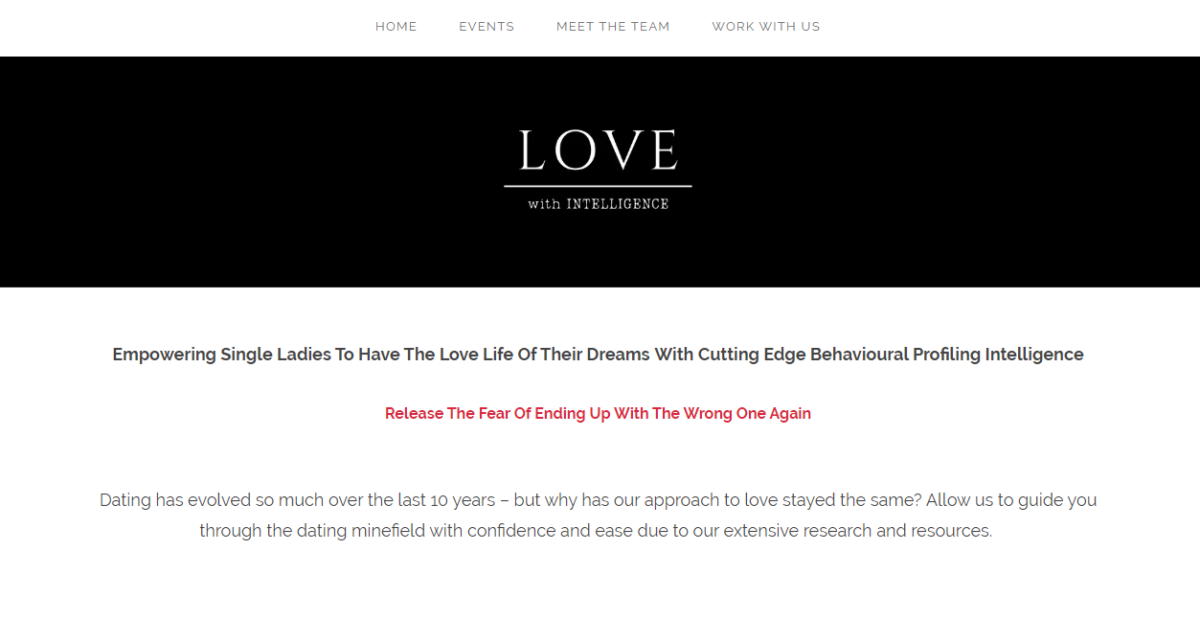 …it now looks like this. Let me do the same for your website.
Sales Emails
How many times a day do you check your inbox? 3? 10?
Email is still the best way to contact your audience. Whether you're sending a regular newsletter, or an email sequence for a launch, I can help.
With experience in writing both, my emails to my own list as an author regularly achieve open rates of over 40%.
A six-email sequence starts at £70.
Blog Posts
Blogs are far from being dead – they're still one of the best ways to get regular traffic to your site. Provide value in every post, and your blog can establish you as an authority in your industry.
If you need creative but authoritative posts that are designed to be shared, and prompt your visitors to take action? I'm your girl. Your posts will also follow SEO best practices to get Google on your side.
With over 80% of my own traffic coming from organic searches, I've got plenty of blogging experience to send your way.
Icy is an excellent writer who always delivers top-notch content and routinely exceeds deadlines. There were never any issues contacting her (me being in North America and her in the UK) and she's so dedicated she even came home early from an anniversary dinner to take on and deliver a last minute project! I would highly recommend her writing services to anyone who needs actionable and engaging and content for their business.

Elna Cain
Ask me about my monthly blog packages!
Long-Form Content
Tell someone a fact, and they'll forget it. Tell someone a story, and they'll pass it on. Story is the best way to connect with your audience.
Maybe you've heard that email marketing is the only way to build a community.
Perhaps you need to create an ebook as a lead magnet to help encourage subscribers to commit to your list.
You might want feature-length articles to educate or entertain your visitors.
These features need to grip the reader – and story becomes the way to do it.
As a creative storyteller, I'm well placed to help you create long-form content that resonates.
Prices start at £80 for a 2000-word article, including shareable social media graphics.
Editing Services
You may already have copy that contains the content you want to use. Perhaps it just doesn't 'sizzle'.
Maybe your work needs to be re-ordered and polished before you submit it elsewhere.
I can help. With experience in editing everything from press releases to novels, academic articles to blog posts, I edit copy as well as writing it.
I charge £15 per 2000 words.
Examples
Blogging for Authors: How to Create Your Own Traffic Goldmine
How to Avoid Writing Boring Outlines with the IKEA Methods
How to Improve Your Email Marketing Automation using Video Games
3 things you need to create the perfect Gothic story
Hire my Writing Services
You're a busy person, so let's keep things simple.
Kick things off with an email. Let me know what kind of project you have. That way we can work out what it is that you actually need.
Next we'll work out a time frame, a price, and what the work will include. We'll put this in a written agreement.
Last, I'll get on with the work! We'll keep the lines of communication open for edits, or anything that crops up during the project.
Sound good?
Drop me an email and we'll get going!