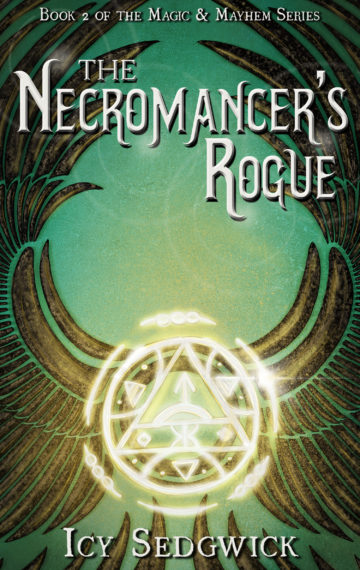 Publisher:

Skolion

Editor:

Nerine Dorman

Edition:

1

Available in:

Kindle, Paperback

Published:

April 13, 2018
Kindle
Paperback
All Other Stores
Shadows, Wolves, and Ancient Goddesses.
After his excursion into the realm of the dead, apprentice mage Jyximus Faire wants a more quiet life. But a petulant prince wants to raze the Underground City and turn it into a pleasure ground for his rich friends. And a Lord of Death seeks a hidden artefact to tear open the Veil between the worlds and destroy the living. Taking it easy is not an option.
Even though she condemned him to the Perpetual Death, the necromancer general Eufame Delsenza needs Jyx's help to escape a notorious prison. And she needs him to work with a Shadowkin, a persecuted race used as thieves and spies.
Can Jyx regain his confidence in his magick and 'go rogue' to awaken an ancient goddess, work with wolves, and save his home from destruction?
The Necromancer's Rogue is the second book in Icy Sedgwick's quirky dark fantasy Magic & Mayhem series, following The Necromancer's Apprentice. It's ideal for fans of Harry Potter, Tim Burton, Terry Pratchett or Neil Gaiman.

Reviews of The Necromancer's Rogue
"Great glimpse into a great magical world. Vivid descriptions so you get pulled in. Be warned, once you start reading this book you won't want to stop." – 5*
"It's a great expansion of the Underground City, in which we meet new characters and get embroiled in the world of the city and the people and creatures that live in it. … Icy Sedgwick is a wonderful writer. The descriptions are rich and vivid, bringing this fast-paced tale to life. Read the Necromancer's Rogue for a whole lot of fun." – 5*
"I waited so long for this sequel that, when it came, I devoured the entire, compelling tale in one sitting. Ms Sedgwick doesn't disappoint, pulling you into Jyx's fantastical world on the first page with vivid descriptions of a complex world, so brilliantly portrayed you feel as though you've walked onto the set of the next Mummy movie." – 5*
Who is the skeleton in the floor?
Jump into a world of magic, mummies and mayhem with this free story! You'll also get a monthly email of free stories, book recommendations, and cool stuff.