I'm continuing my Halloween season with a focus on zombie films. Zombies have become something of a cultural icon in a way that few movie monsters have, but a lot of the contemporary depictions of the zombie are rooted in George Romero's Night of the Living Dead (1968), which conveniently ignores the folklore roots of the zombie, and turns this shambling shell of voodoo magic into a brains-munching cliché.
So today I'm going to highlight the original three zombie films which are well worth a watch!
White Zombie (1932)
White Zombie was an independent film that starred Bela Lugosi as the villainous voodoo master, Murder Legendre. It tells the tale of a couple who arrive in Haiti, Neil and Madeleine. Madeleine catches the eye of the local plantation owner, Charles, and he tries to enlist Murder's help in getting her to marry him instead of Neil. Instead Murder turns Madeleine into a zombie (as you do), and Neil races to free his beloved.
Eagle-eyed viewers spotted sets rented from previous Universal films, including Dracula, Frankenstein and The Cat and the Canary. It didn't achieve the same critical acclaim as other horror films of the time. But despite its wonky acting, it's gone on to become something of a cult favourite. It even inspired the name of metal band White Zombie.
Pick up a DVD copy on Amazon here.
I Walked With A Zombie (1943)
Val Lewton's atmospheric classic tells the story of Betsy, a Canadian nurse charged with the care of Jessica, the catatonic wife of a sugar plantation owner. In attempting to unravel the root of Jessica's condition, Betsy uncovers a mess of adultery, alcoholism, calypso and voodoo. It's certainly an interesting take on voodoo practices. That said, it does raise some problematic questions around race.
The RKO films instigated by Val Lewton often remained ambiguous, never explaining events as either rational or supernatural in cause. I Walked With A Zombie is no different. It's entirely possible that Jessica IS a zombie…or her illness could have a perfectly rational cause, and those around her are operating under a delusion.
You can watch the trailer here!
Plague of the Zombies (1966)
This Hammer Horror classic is my favourite of the pre-Romero zombie films for many reasons, not least its pacey plot and gorgeous set design. It tells the story of a Cornish village where people are dying and no one knows why. The local doctor sends for Sir James Forbes, played by Andre Morell, to try and uncover what's happening. When they realise that empty coffins are being buried, they know something is afoot. It all leads to the tin mine of the local squire, played by John Carson.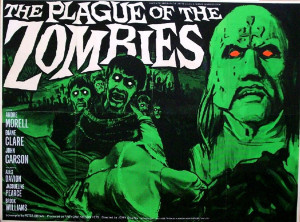 Naturally Sir James has to unravel exactly what the squire is doing, and why, in order to end the plague and rescue his daughter from the squire's evil clutches. Being a Hammer film, this is all happening in the 1860s. It was actually shot back-to-back with another B-feature, The Reptile, also set in Cornwall and dealt with strange influences brought back from the mysterious world of 'abroad'.
If this trailer doesn't make you want to watch it, nothing will.
What all three films have in common is the voodoo element – no viruses, radiation, or mutations here. All of the zombies can be, and are, controlled by a single figure. They become weapons wielded by this nefarious villain. Obviously this brings an element of closure to the stories that is missing from the later films. You only have to stop one character, rather than a rampaging horde.
In some ways I think it's a pity that the contemporary narratives all rely on blood, guts and brains. These earlier zombie films managed to generate a degree of atmosphere and just plain weirdness that you don't get in films like World War Z or Dawn of the Dead. Then again, it's difficult to do these zombies for fancy dress!
If you prefer these zombies, you might enjoy my weird Western, To Kill A Dead Man.
Have you seen any of these classic zombie films?
Who is the skeleton in the floor?
Jump into a world of magic, mummies and mayhem with this free story! You'll also get a monthly email of free stories, book recommendations, and cool stuff.