Place names are important and tell us a lot of valuable information. Yet many names come to us with centuries of use attached. They become distorted over time as people misspell or mishear them.
In some cases, folklore becomes attached to explain their origins. As an example, you can find No Place near Stanley. Some believed it was originally given its name as part of a tax evasion scam. The locals could tell tax collectors they were from No Place and not actually be lying.
Sadly, the truth is more prosaic. Most historians think it's just an adaptation of North Place.
So let's have a look at some unusual English place names. What folklore is attached to them—if any? Hit 'play' to hear the podcast episode of this post, or keep reading.
What's in a name?
Clues abound that can suggest the presence of archaeological sites in the area. We can find out about historical events via placenames. Charles Whynne-Hammond gives the example of Scandinavian place names that help us to plot the Viking invasion across Britain (2007). And place names can also tell us about geographical features that may now be lost.
Remember, in past times, places didn't always have fancy names. 'the river' or 'the hill' would have been fine when people lived in smaller communities. Villagers would have known which hill or river you meant. Once people started travelling further afield, they needed names to differentiate features and settlements.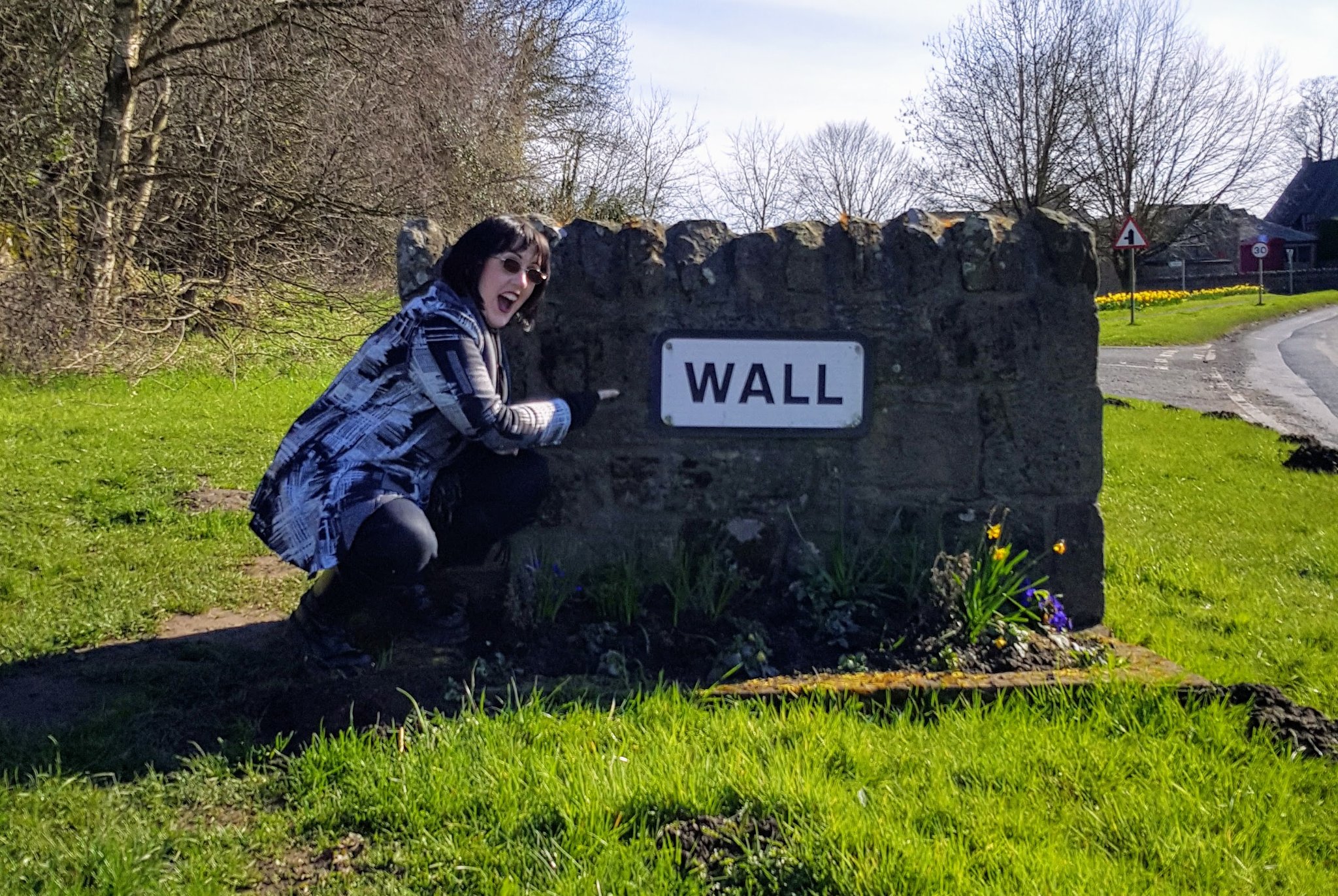 Originally, these names either applied to geographical features or human structures, like farms (Whynne-Hammond 2007). After a while, these names started to apply to each other. These original place names were either adapted or replaced by the Romans, then the Anglo-Saxons, then the Vikings, and finally the Normans.
As an example, their influence becomes clear when we look at Bearpark in Durham. There has never been a specific bear reservation in the area, because that's not the original name. In Norman French, it was called 'Beau Repaire', which means 'Beautiful Retreat'. And like typical northerners, we turned it into Bearpark.
The Folklore of Place Names
There are problems when it comes to decoding place names, as we shall see. Folklore becomes attached to them, and people repeat the imaginative name origins rather than the often more prosaic fact. Whynne-Hammond gives the example of Purfleet in Essex (2007). In one legend, Queen Elizabeth I travelled to the Thames estuary. She wanted to inspect her fleet following its victory over the Spanish Armada. In one apocryphal tale, she remarked, "Alas, my poor fleet!" which became the town of Purfleet.
So in this post, we're going to explore the folklore attached to some particularly unusual place names. I've steered clear of most names that just simply sound rude ('Twatt', for example) in favour of names that genuinely seem odd. Clearly, there are far more than I can cover here, so I hope this inspires you to do a little digging yourself!
People did ask on Twitter if I could cover Wideopen, which is spelled both as a single word, and two separate words. Unfortunately, I couldn't find anything about where the name came from.
Ferryhill
You might think 'Ferryhill' isn't a particularly strange or unusual place name. But the reason I've included it is a) it was a request and b) the name makes no sense when you discover that it lies nowhere near water. So why 'ferry'?
There is one theory that the name comes from 'fiergen', an Old English word meaning 'wooded hill' (KeystothePast.info 2021). A Dictionary of British Place-Names backs this one up, saying 'fergen' means wooded hill, and 'hyll' is just 'hill' (Mills 2011). So calling it 'fergen hyll' meant it was essentially Wooded Hill Hill.
According to Caroline Taggart, it was Feregenne in the 10th century, and Ferye on the Hill in the 14th century (2011: 267).
Another theory is that Sir Roger de Fery killed the last wild boar in the area in 1200 AD. There's a plaque to commemorate the event.
Other people think that the village name came from a river that flowed through a nearby limestone gap. The river was known as a ferry. The main railway line runs through this gap now. So having a village on a hill near this ferry would give rise to the name Ferryhill (Ferryhill Town Council 2021).
High Handenhold
You can find High Handenhold near Beamish in County Durham. I really hoped this one was going to have a fascinating story attached…but sadly not. The 'Handenhold' part of the name derives from Handen 'Howl'. This is a nearby vale, and the howl refers to this hollow. Likewise, 'den' in place names "often refers to a dene or valley", so this would seem like a likely origin (Simpson 1991-2017).
Isle of Dogs
According to A Dictionary of British Place-Names, the name was first recorded in 1520. Mills says it was probably a descriptive term about the marshy peninsula which may have been home to wild or stray dogs (2011).
Whynne-Hammond relates the folklore that Charles II exercised his spaniels here when he stayed at Greenwich Palace (2007). This apparently gave the place its name, though many think this is just purely folklore.
But Whynne-Hammond also notes that the name is older than Charles II's reign. It's also possible the name is a corruption of 'Isle of Ducks' since it was once a popular site for wild fowl (2007).
Nomansland
There are settlements called Nomansland in both Wiltshire and Devon. According to A Dictionary of British Place-Names, it actually just means 'land no one owns', often on a boundary (Mills 2011).
Once Brewed/Twice Brewed
Once Brewed is near Hadrian's Wall and the Vindolanda Roman fort. If you approach the village from the east, it's called Once Brewed. Come in from the west and it's called Twice Brewed.
But where on earth did the village get such a weird name?
The village inn is called the Twice Brewed Inn. One theory goes back to 1464 and the Battle of Hexham. The night before the battle, soldiers fighting for the York cause decided the beer wasn't strong enough. They demanded it be brewed again. The following day, they rebuffed an early morning raid by the Lancastrian army, which fled.
Another theory posits that in the 18th century, farmers served weak ale. So the inn was advertising its stronger ale through its name.
As for Once Brewed? The teetotaller Lady Trevelyan opened a youth hostel nearby in 1934. She announced they would serve nothing stronger than tea, 'once brewed'. The name stuck, giving the spot its dual name. The youth hostel is now a visitor centre.
Pennycomequick
This part of Plymouth in Devon has a somewhat unusual name. The most common theory is that the area is named for The Penny pub. Others think it might come from the term Pen y cwm gwic, meaning 'head of the creek' (Bannister 1871: 123).
There is another version, in which a woman lived in a hut in the area. She would give visitors the boiling water they needed to make their tea for a penny per person. The woman would tell these visitors how she made money fast, or made the 'penny come quick', with this simple business idea. Over time, the name stuck (Elmes 2018).
Others have claimed that there was a tollhouse on the road from Plymouth to Saltash. As it was very busy, locals said the 'pennies came quick'.
A Dictionary of British Place-Names seems to favour this type of origin, saying "Originally perhaps a nickname for a prosperous farm or productive piece of ground" (Mills 2011).
Yet this version of the story can't be right. The name predates the tollhouse and was in use by the mid-17th century (Moseley 2019). In 1643, it was listed as 'Penicomequick'. So the original Cornish name is the more likely contender.
Pity Me
Various theories abound as to where the name of this Durham village came from. A Dictionary of British Place-Names says it's "a whimsical name bestowed in the 19th century on a place considered desolate, exposed or difficult to cultivate" (Mills 2011). Taggart agrees with this one, saying it's more likely "the name was deliberately chosen to be spoken with a heavy sigh by the person who had to work this unproductive land" (2011: 279).
Others think it draws on the term mere, to mean a shallow lake. In this theory, it could be a version of Petit Mere, referring to a small shallow lake. Or it could be or Peaty Mere, referring to a muddy mere. Someone else thinks it was Pithead Mere because minehead pumps may have discharged wastewater here.
There are other villages in Northumberland with the same name, so some think it might refer to land use or a feature of the landscape. The Pity Me in North Tynedale is believed to have gotten its name from Beddan Maes. This is an ancient British name meaning 'burial ground', though no one has applied this to the Durham version.
Others think that St Cuthbert's coffin was dropped here on the way to Durham, and 'Pity Me' came from the saint's admonishment to the monks (Taggart 2011: 279).
In 1934, a letter appeared in the Yorkshire Post and Leeds Intelligencer to explain the origin of the village name. In their theory, "The usually accepted version is that it was an offshoot of Finchale Priory, some six miles away, which was reputed to have been destroyed by Cromwell's Army. It was what we would now describe as a first-aid station, hence the name 'Pitié Mias', afterwards corrupted to 'Pity Me'."
Westward Ho!
The town of Westward Ho! (yes, it needs the exclamation mark) is in Devon. A Dictionary of British Place-Names explains that it's actually a modern name. It was named after the novel of the same name by Charles Kingsley (1855). The novel was set in the area.
Wetwang
This is the closest we're going to get to a 'rude' name. I'm sure you can guess what its name is often translated to mean.
In the Domesday Book, it's listed as Wetuuangha. Some think that this comes from the Old Norse name Vertvanger, which means 'meeting place' or 'place of justice' (Wetwang Village Hall 2021). A Dictionary of British Place-Names chooses 'field for the trial of a legal action' for the meaning (Mills 2011).
We can break it down because 'wang' comes from 'vangr', or field. And the 'wet' more than likely comes from the Old English word wæt, meaning 'wet'.
Others think that this is a 'wet field', in comparison with nearby Driffield, or 'dry field'. This would be unusual since Wetwang is apparently considered a dry place (English Place-name Society 1923 – 2021).
While it has nothing to do with the place name, Wetwang also has another claim to fame. It was also the site of an Iron Age chariot burial for a female warrior.
Whip-Ma-Whop-Ma-Gate
No one really knows where Whip-Ma-Whop-Ma-Gate, one of the shortest streets in York, got its name.
Some think its original name was 'Whitnourwhatnourgate', aka 'What a Street!' Others think York's whipping post stood here in the Middle Ages.
And yet more think it basically means 'Not One Thing Nor Another'. If that's true, it makes it the most liminal place in York. Liminal places are usually crossroads or other spaces that aren't one place or another. This street connects two other streets, so it's a 'between' place of sorts. Though you could say that about a lot of short streets!
Wherever the name came from, the 'gate' part of the name comes from the Norse word for street, 'gata'. So not an actual gate.
Clues in Place Names
As you can see from this small collection, some place names accrue cool legends to explain their names. Yet the truth is likely far more prosaic. Folklore can often obscure the true origin myths. This adds an extra layer of 'story' to an already strange bricolage of place names, historical uses, and geographical features. If you do a little digging, who knows what you'll find?
What are some of the more unusual place names near you?
References
Bannister, John (1871), A Glossary of Cornish Names, London: Williams & Norgate.
Elmes, Sarah (2018), 'How these seven parts of Plymouth got their names', Plymouth Herald, https://www.plymouthherald.co.uk/news/history/how-seven-parts-plymouth-names-2330846.
English Place-name Society (1923-2021), 'Wetwang', English Place-name Society 1923 – 2021, https://bit.ly/3wRyb0F.
Ferryhill Town Council (2021), 'History: Local History', Ferryhill Town Council, https://ferryhill.gov.uk/history/.
Keystothepast.info (2021), 'Local History: Ferryhill (County Durham)', Keystothepast.info, http://www.keystothepast.info/article/10339/Site-Details?PRN=D6793.
Mills, A.D. (2011), A Dictionary of British Place Names, first edition revised, Oxford: Oxford University Press.
Moseley, Brian (2019), 'Pennycomequick', Old Devonport, http://www.olddevonport.uk/Pennycomequick.htm.
Northerner (1934), 'This World of Ours: Trent Park History—The New Commissioner—Medieval First Aid Station—The First Annuals', Yorkshire Post and Leeds Intelligencer, 10 December, p. 6.
Simpson, David (1991-2017), 'Pelton, Ouston, Urpeth and High Handenhold', England's North East, https://englandsnortheast.co.uk/pelton/.
Taggart, Caroline (2011), The Book of English Place Names: How Our Towns and Villages Got Their Names, London: Ebury Press.
Wetwang Village Hall (2021), 'Wetwang Village History', Wetwang Village, https://www.wetwang.org.uk/wetwang-history/.
Whynne-Hammond, Charles (2007), English Place-Names Explained, Newbury, Berkshire: Countryside Books.
Nutty about folklore and want more?
Add your email below and get these posts in your inbox every week.
You'll also get my 5-step guide to protecting your home using folklore!