If you've read China Miéville's King Rat, then you'll know dark things can stir beneath London. But perhaps it's not a King Rat. Perhaps it's a Queen Rat.
Only those who venture into the deep, dark places would encounter such a creature. Let me introduce you to the toshers.
What does a tosher do?
When the River Thames was still a working river, a whole host of trades sprang up to take advantage of its spoils. Rivermen, mudlarks, and rag-and-bone men all scavenged from the shoreline and the water.
But the toshers went far deeper. Their job involved entering the sewers in search of valuables like jewellery and lost money. Geri Walton points out that while the work was disgusting, the toshers thought of themselves as higher than mudlarks. Toshers searched for valuables, while mudlarks scavenged for coal or wood.
It's a stretch to call toshing a 'job', since they received no payment beyond what they found in the depths. Unauthorised entry into the sewers became illegal in 1840, making the work secretive as well as dangerous. Toshers might get lost in the maze of sewers beneath the city. They risked drowning when sluices were lifted. Or they could breathe in noxious fumes.
And I sometimes complain about my job.
But many secretive and small communities develop their own legends and folklore, passed down only among themselves and within their families.
The Queen Rat, a supernatural creature capable of bestowing fabulous luck or horrible curses, was one of them.
Jerry Sweetly and the Queen Rat
The story of Jerry Sweetly, a Bermondsey tosher, emerged in the 1990s when Liz Thompson, one of his descendants, broke the family silence. Sweetly, who died in 1890, told his grandson on his deathbed that he'd encountered the Queen Rat aged 15.
The Queen Rat lived in the sewers and watched the toshers at their work. If she took a shine to one of the men, she adopted the form of a good-looking woman and enticed them into a quiet, shadowy corner. Her eyes reflected light like an animal's, but the clue went unnoticed in the dark.
If the tosher gave her a good time, the Queen Rat rewarded him with good luck. He'd find far more valuable jewellery far more often. She'd also bite his neck to 'mark' him, preventing other rats from harming him.
But if he suspected her true identity, or talked about her, his luck would change. He might drown, or meet some other horrible fate.
If you offended her, she bestowed awful luck in your love life.
Sweetly maintained he met her in a pub. His pregnant girlfriend stayed at home that night. So Sweetly kept drinking with the mysterious woman who'd taken a shine to him. They went to a dance before she led him to an empty rag warehouse.
The woman bit him on the neck and Sweetly lashed out in surprise. The girl vanished and he spotted a huge rat in the rafters above him. It dropped a shred of fabric that matched his shirt collar. The rat warned him that while he'd get his luck, he hadn't yet finished paying for it.
Sweetly's bad luck ran through his love life because his girlfriend died giving birth. His next partner, with whom he had 6 children, fell into a river before being crushed by a barge.
A curious quirk of the Queen Rat legend emerged with the Sweetly tale. If a man had an encounter with her, then one of his children by his human wife would be marked. She would be a daughter with one blue and one grey eye, as well as acute hearing. One such girl appeared in every generation. This was certainly the case in the Sweetly story.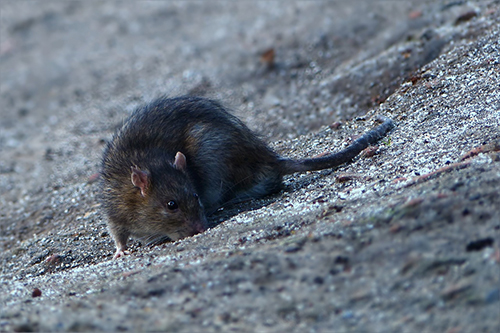 What happened to the Queen Rat?
Who knows if she ever existed at all? This quirk of inherited characteristics recalls the selkie stories of the Orkney and Shetland islands. The seal-woman passed on her characteristics to her children.
But in the Queen Rat stories, the characteristics pass through the human partner. She transfers her claim onto the man, which emerges in his children. Some describe her as a form of succubus, albeit one that grants fabulous luck in exchange for a few moments of passion.
I can't find any mention of the Queen Rat in relation to any group outside of the toshers. Perhaps they invented her to explain the sudden changes in luck that individuals might enjoy. Or maybe she became a boogeyman, warning young men about the perils of dallying with strange women.
Or perhaps she's still down there, wondering why the young men don't visit her any more…
Enjoy this post? Sign up below to get future posts in your inbox. I'll even send you two short stories based on changeling folklore to say hello.
Nutty about folklore and want more?
Add your email below and get these posts in your inbox every week.
You'll also get my 5-step guide to protecting your home using folklore!