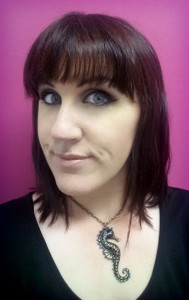 The very lovely Chiaki has written a blog post about what she sees in the mirror, based upon the running feature in The Guardian of the same concept. I figured I'd do my own as I don't usually blog about myself and thought it might make a nice change!
The first thing I see is my makeup. I've been accused in the past of using it as a mask, or hiding behind it, while others have paraded the inevitable "Women shouldn't need makeup to feel attractive" line in front of me, but the truth is, I like makeup. I like experimenting with colours, trying out new techniques, coming up with new looks – it's a skin-based form of graphic art for me. My makeup is as much a part of how I express myself as my clothes are, and yes, I do choose the colours of my eye makeup to match whatever I'm going to be wearing that day. It's an extra accessory. I'm currently fond of 60s style makeup. I'm also really pale with purple rings under my eyes without makeup and no one needs to see that. Seriously, I'm doing the world a favour.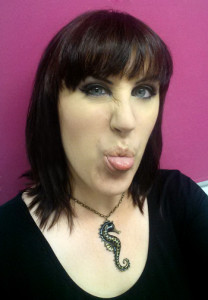 I'm also inordinately proud of my hair. It used to be waist-length and poker straight, and I did that typical thing of having it cut off after a break-up (I was dumped by text, no less). There are some days when I miss my long hair but it's easier to look after at this length. It's currently a dark Ribena purple, but my natural colour is a dark coppery-chestnut shade. Well I think it is, I can't really remember! In the past it's been dark blue, black, purple and red – and also an unfortunate shade of dark green when a blue-black dye went a bit wrong. I'm also fond of my eyebrows, which have been described as "mobile" as I use them to express myself quite a lot.
I smile in photos, but rarely opening my mouth – I'm conscious of the fact I have a "cheeky grin" and that I'll never have an alluring or attractive smile. I have rather deep dimples when I grin and it either makes me look cute or wicked, depending on the circumstance. My lips form a natural pout so it's difficult for me to wear dark lipsticks without looking like I'm sneering – so the current trend for nude lip colours is a real boon for me. I don't really look like anyone else – I have similar bone structure to my brother but that's about it. I've been told I look quite "fey" (in the Faerie sense of the word) but personally I'm gunning for "Vulcan".
I'm only about 5′ 6″ and I've got what people describe as an hourglass figure which is cool but a pain to shop for, as things that fit in the waist are often too tight on the hips, and whatever fits on the hips is far too big on the waist! Probably explains my new-found love of skater and swing dresses. I've never been skinny and I don't think I'll ever even be slim, but I just want my clothes to fit well, and to be comfortable in my own skin. Hopefully one day I will be.
How about you? What do you see in the mirror?