Witch bottles date to at least the 1600s in both England and the US. Despite the name, witches did not make the bottles. Rather, ordinary people made them to repel a witch's power. If you thought a witch had cast a spell against you, then you'd create one of these to counteract it.
In this post, we'll look at the original witch bottles, as well as their modern counterparts. I've even included some simple instructions if you want to make your own!
Click below to listen to the audio version of this post, or keep reading!
Where are witch bottles found?
For centuries, people have hidden all sorts of items in their homes to offer a form of protection. Such items include written charms, dried cats, shoes, and horse skulls. Episode 3 of The Folklore Podcast discusses these objects as part of the Concealed Revealed initiative.
People usually find witch bottles buried under the hearth or hidden inside a chimney.
Given where they're hidden, they're often found during remodelling work within houses. Brian Hoggard notes that a bottle from the late eighteenth or early nineteenth century turned up under a farmhouse hearth in Kent. Similarly, smaller versions (more like phials) were found under the floor with children's shoes and toys in Worcestershire (2004: 174).
Some commentators think homeowners intended to protect their houses with these bottles. The same goes for bottles buried at the edge of their property.
In 2014, archaeologists unearthed a bottle at the site of a new Civil War Centre in Nottinghamshire. Experts thought it dated to the construction of the Georgian part of the Old Magnus Building. The project manager confirmed the Centre would display the bottle when it opened.
Hopefully, its protective nature continues!
How do witch bottles work?
Bottles were often made of ceramic material or glass, and they might contain fingernail clippings, hair, or even urine. I've come across stories of bottles that also contained thorns, red thread, broken glass, nails and pins.
Some people think the witch bottle protected the whole property if buried outside. Witch bottles attracted negative energies and trapped them – much like leaving out a bottle of beer to attract wasps. By burying them beneath the doorstep, you're not likely to disturb the bottles. Plus, doorways act as the most likely point of entry for any negative spirits.
Countering Witchcraft
Owen Davies cites the witch bottle as a tool for counteracting witchcraft. Urine and hair or nail clippings from the bewitched person 'linked' the bottle to them. The nails, thorn or pins were intended to cause pain to the witch (1999: xiii). Heating the bottle sped up the process and caused the witch to break the spell.
Eric Maple relates a story told to him by an old woman about the use of a witch bottle to break a spell. The witch bottle was heated in the fire until "a scratching of finger-nails was heard on the outside of the door" (1960b: 245). Someone spoke, breaking the spell – so I can only assume this act of counter-witchcraft didn't work.
A cunning man named James Murrell in Essex even had a local blacksmith cast iron witch bottles (Maple 1960a: 38). According to Eric Maple, Murrell used one of these bottles to repel a witch after she cursed a young woman. The cunning man held the bottle in the fire until the witch arrived, begging him to stop. The next day, locals found the witch burned to death and the girl recovered (1960a: 39).
Ralph Merrifield claims Murrell died after someone used a witch bottle against him in 1860 (1955: 195).
One stoneware bottle found on a building site in Suffolk contained; human hair, 6 brass pins, broken glass, 40 rusted nails and a piece of felt in a rough heart shape.
The Real Reason for Hiding Witch Bottles
According to Merrifield, a witch would "be doomed to a slow and painful death" if the witch bottle was hidden (1955: 195). Apparently, only uncorking the bottle broke the counter-spell, which explains why they were buried under hearthstones. Keeping it out of the witch's grasp stopped her interfering with your counter-magic.
Some bottles have been found buried in churchyards but only one has been found inside a coffin. The bottle lay "between the left humerus and upper chest", implying the body cradled it (Hoggard 2004: 174).
That's one way of making sure no one uncorks it!
Researchers found copper pins inside, and others stuck in the cork. Hoggard suggests the bottle acted "as a kind of counter-witchcraft revenge when the individual died" (2004: 174).
Bellarmine Bottles
According to Mama C, a very particular type of bottle became popular between the late 1500s and the mid-1600s. Bearing the likeness of Cardinal Robert Bellarmino, these 'bellarmine bottles' often came from Germany or the Netherlands.
The Cardinal was not a popular man, but his face on the bottles tricked evil spells into thinking they'd found their target.
An intact example was actually discovered in Greenwich in 2004, filled with urine, brimstone, iron nails and fingernails. You can read more about it from New Scientist.
Verena Theile and Andrew D. McCarthy discuss the chemical analysis conducted on this intact witch bottle.
It revealed the urine came from a smoker. Meanwhile, ten fingernail clippings were manicured. This implied "that the individual was not a manual labourer, but likely a member of at least the upper middle class" (2013: 1).
It wasn't just Murrell who mentioned cast iron witch bottles. Enid M. Porter relates the tale of a man who'd seen an iron bottle in a blacksmith's shed in around 1901. A customer ordered it but never collected it (1958: 121).
According to Granny's Grimoire, over 200 witch bottles rest in museum collections. How many have been discarded as trash over the years? How many still need to be found?
Are there examples outside of England?
Yes. According to Chris Manning, 8 possible witch bottles have been identified in the US. The so-called Essington witch bottle came first, identified by archaeologist Marshall Becker in 1976. Discovered on Great Tinicum Island in Pennsylvania, the bottle contained a long thin bone from a bird, 6 pins and a shard from a black bowl. Becker believed the bottle to date back to the mid 18th century.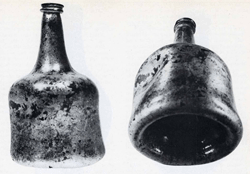 According to Becker, the practice of such 'white' witchcraft was widespread in colonial America, despite legislation against it. Becker also maintains that people buried bottles intended for generalised protection beneath doorsteps or fireplaces. People buried those intended as countermeasures against specific curses, or threw them into streams.
Becker also claims that people used urine in witch bottles as a form of sympathetic magic. In an era when urinary problems were common, witchcraft may have been cited as a cause. Using their urine in a bottle allowed the sufferer to send the pain back to the witch.
Barbara Rieti explains that Barrenville in Newfoundland even boasted a bank "where people went to get new pins needed for witch-bottles", while the doctors in the town even "treated the bladder-bound witches" (2008: 79).
How would you make a modern witch bottle?
But I promised you instructions to make a witch bottle, didn't I? Thankfully the modern versions contain more pleasant ingredients! Earthwitchery.com asks you to add rosemary, needles, and pins to a small jar, reciting the following as you do so;
Pins, needles, rosemary, wine;
In this witches bottle of mine.
Guard against harm and enmity;
This is my will, so mote it be!
Next, fill the jar with red wine.
Seal the jar using red or black candle wax. Just drip the melted wax from a lit candle and let it set. Either bury the jar at the edge of your property or hide it somewhere in the house. The thinking behind the bottle is that the pins and needles impale evil, the wine drowns it, and the rosemary sends it on its way.
You can also use the bottle as a means to draw other things toward you, such as money, good luck, or even romance. Just swap out the contents for things related to the outcome you desire. Leave out anything harmful, like pins or broken glass. (I should note, some call this version a spell bottle, to differentiate from witch bottles).
So there we have it!
A potted history of witch bottles, and a simple way to make one yourself. Combined with mirrors, and candles, you've got the start of a magical defence system…though don't remove your burglar alarm just yet!
Add your email address below to get posts like these in your inbox every week! I'll also send you my top 5 folklore podcast recommendations.
References
Davies, Owen (1999), Witchcraft, Magic and Culture: 1736 – 1951, Manchester: Manchester University Press.
Hoggard, Brian (2004), 'The archaeology of counter-witchcraft and popular magic', in Owen Davies and Willem De Blécourt (eds), Beyond the Witch Trials: Witchcraft and magic in Enlightenment Europe, Manchester: Manchester University Press, pp. 167-186.
Maple, Eric (1960a), 'Cunning Murrell. A Study of a Nineteenth-Century Cunning Man in Hadleigh, Essex', Folklore 71:1, pp. 37-43.
Maple, Eric (1960b), 'The Witches of Canewdon, Folklore, 71:4, pp. 241-250.
Merrifield, Ralph (1955), 'Witch Bottles and Magical Jugs', Folklore, 66:1, pp. 195-207.
Porter, Enid M. (1958), 'Some Folk Beliefs of the Fens', Folklore 69:2, pp. 112-122.
Rieti, Barbara (2008), Making Witches: Newfoundland Traditions of Spells and Counterspells, Montreal: McGill-Queen's University Press.
Theile, Verena and Andrew D. McCarthy (2013), Staging the Superstitions of Early Modern Europe, Abingdon: Routledge.
Nutty about folklore and want more?
Add your email below and get these posts in your inbox every week.
You'll also get my 5-step guide to protecting your home using folklore!