Asking people to visit a graveyard can sometimes be a hard sell. But a writer needs little persuasion. Writers know just how inspiring cemeteries and burial sites can be.
Back in 2014, I had a short story included in the Suspended in Dusk anthology, published by Books of the Dead. I intended 'A Woman of Disrepute' to be a Gothic piece, steeped in the fog and darkness of Victorian London. Because it has origins in historical fact, I wanted to talk about where the story came from.
Inspired by Cross Bones graveyard
I've long been fascinated by women in Victorian art, portrayed as one of two binary opposites; either the Angel of the Hearth, or the fallen woman.
According to Victorian social etiquette, women ran the household. They provided emotional and domestic support to their husbands. Otherwise they tended to men's 'other' needs and suffered as a result.
Society labelled those who didn't fall into this bracket as either 'spinsters' or 'fallen women'. In her excellent book The Victorian City: Everyday Life in Dickens' London, Judith Flanders notes there are examples of prostitutes earning enough money to leave the profession. They set themselves up as respectable business owners far from their former stomping grounds. But many prostitutes chose suicide. Paintings of the time often depicted these women either on Blackfriars Bridge contemplating their fate, or in the water.
Found by Dante Gabriel Rossetti pictures a young man who has brought a young lamb to market. Instead he finds his childhood sweetheart plying her own trade in the city. He finds her on the bridge, apparently about to throw herself off it.
Pulling this into a story
Enter the protagonist of my story, the writer Edward Bonneville. He learns of the plight of these women when an artist friend creates a painting depicting this state of affairs. It's unlikely that he knew nothing of such things, but he thinks only writers can tell the truth.
He sets off to a less salubrious club to interview some of the ladies with looser morals. He wants to write some sort of expose about the treatment they suffer. Instead, he discovers something a lot darker that is stalking the streets of Southwark. The 'urban legend' among the girls is the real reason why so many prostitutes turn up dead.
The story is set in the early 1890s, playing on ideas around Jack the Ripper, although these deaths are attributed to suicide, not murder.
Research is key
Southwark is a key location in the story. In the 12th century, prostitution was actually legal here. The girls paid taxes to the Bishop of Winchester, based at the Palace of Winchester in Southwark. The ladies became known as the Bishop of Winchester's geese. When they died, they were buried in unconsecrated ground nearby.
There are historical links with a "Single Women's Graveyard" named in a 1598 survey and Cross Bones graveyard, a patch of ground not far from Borough Market. Closed in 1853, it was sold as a building site in 1883. The construction of Jubilee Line on the London Underground disturbed the land in the 1990s.
I looked it up online on www.old-maps.co.uk, and in 1882, a builder's yard stands on the site. By 1895 the maps credit it as being the site of the 'Cross Bones Burying Ground'. According to its website, the site was allegedly a plague pit during the 1665 Great Plague. Given the widespread nature of the plague, that would hardly be surprising.
Fictional licence
I've created a further character, in the figure of the first Goose buried in the ground, known as 'Mother Goose'. She becomes the monster of the story, but I suppose the main inspiration was Cross Bones itself. You can still visit the graveyard today, located on Redcross Way. When I visited in 2014, you couldn't get any further than the gates. It's now a memorial garden so I'll have to visit again properly.
Ribbons and other tributes to the graveyard's inhabitants adorn the gates. A bronze plaque honours "the outcast dead". Archaeologists removed 146 skeletons but community events held at the graveyard honour those buried there.
You can only peer through the gates but you can't help feeling sorrow on behalf of those interred in the graveyard. In a way, I suppose I've continued Edward Bonneville's intention to tell the story of these poor women, albeit a story soaked in supernatural shadows…
---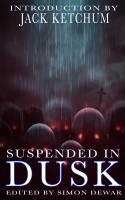 If this has piqued your interest, you can find more details at Goodreads. Pick up a copy of Suspended in Dusk from Amazon and Smashwords! The anthology also contains stories by Ramsey Campbell, John Everson, Rayne Hall, Shane McKenzie, Angela Slatter, Alan Baxter, S.G Larner, Wendy Hammer, Sarah Read, Karen Runge, Toby Bennett, Benjamin Knox, Brett Rex Bruton, Tom Dullemond, Armand Rosamilia, Chris Limb, Anna Reith, and J.C. Michael, and features an introduction by Jack Ketcham!