Selkies appear alongside mermaids and sirens as sea dwelling folk that humans might encounter. But are the selkies as dangerous as their singing counterparts?
At the most basic level, selkies are shapeshifters. They take the form of seals in the sea and humans on land. Tales of the selkie appear most often in the Orkney Islands. But they also appear in the folklore of Ireland, the Faroe Islands, and Iceland.
Selkies take human form by shedding their seal skin. They can only willingly stay around humans for a short time. Once they've donned their seal skin again, they can't return to shore for another seven years. Humans can force selkies to stay for longer by stealing their seal skin.
As ever, hit play below to listen to this post as a podcast episode. Or keep reading!
Selkies as Love Interests
Many stories revolve around female selkies. Human men sometimes stole their skin, forcing them to become their wives. If the selkie found her seal skin again, she'd regain her seal form and disappear into the waves. In other stories, the man knew nothing of his wife's true nature. He'd wake one day to find her gone. She wouldn't be able to see him again for seven years.
According to the legends, selkie women make excellent wives. Some stories have the selkies take their half-selkie children with them when they return to the sea. In others, they leave them behind, but visit them to play among the waves.
Male selkies appear less often in the stories. And they're far less docile than their female counterparts. In human form, they appear as handsome men and often carried off married human women.
Given their fondness for dissatisfied wives, you do wonder how many women simply abandoned their husbands and used selkies as an excuse.
Ladies, if you want to summon a male selkie, shed seven tears into the sea.
Legendary folk duo The Corries did a folk song about a male selkie, The Great Silkie of Sule Skerry. I've embedded the video below so you can hear their awesome version.
Excellent, eh?
Regional Variations of the Selkies
Allan Asbjørn Jøn notes that the selkies "are said to have been supernaturally formed from the souls of drowned people" (1998: 96-97). Shetland stories see selkies appear at Midsummer to lure humans into the sea. These humans never return to the land again, but it's unclear as to whether they drown too. It makes you wonder if the only way to form new selkies is to drown more people.
According to Orkney Jar, Orkney selkies could only take human form once a year on Midsummer's Eve. Other legends say it's "every ninth night". As humans, they liked dancing on the shore in the moonlight or sunbathing. They sound quite whimsical compared to the devilish sirens of Greek myth.
In the Orkney story of Goodman o' Wastness, an eligible bachelor steals a selkie skin and forces the selkie to become his wife. She bears him seven children but seeks the skin whenever he and the children leave the house. The youngest child, a daughter, tells her where the skin is and the selkie returns to the sea and her selkie husband. The Goodman often spent his later years wandering along the shore, hoping for one last glimpse of his selkie wife.
The Seal Woman of the Faroe Islands
The Faroe Islands have a well-known selkie folk tale, the legend of Kópakonan, the Seal Woman. In this tale, when humans killed themselves in the sea, they became seals. Once a year, they came ashore and had a night in human form.
A young farmer hung around by the beach to see if it was true. A pretty young woman shed her seal skin and went off to dance with her fellow selkies. The farmer stole the skin, which naturally upset the girl when the time came to return to the sea. She had no choice but to accompany him back to his farm.
She lived with him as his wife for years, and even had children with him. But in all that time, he kept her skin locked away. He normally kept the key on his belt, but one day, he went out fishing and realised he'd forgotten the key. By the time he got home, his wife was gone.
Years later, the men of the village decided to go seal hunting. The farmer's wife appeared in a dream and asked him not to kill a particular bull seal, or two seal pups. She explained they were her selkie husband and sons. The farmer ignored her plea and they killed any seal they came across. That night, the selkie woman appeared and cursed the men of the village to either fall from the cliffs or drown in the sea. The curse will only be lifted when the dead can link hands around the edge of the island.
There's now a statue of Kópakonan on Kalsoy, in the village of Mikladalur.
Another story from the Faroe Islands sees a human man caught in a vicious storm at sea. His Selkie wife dons her seal skin and saves his life. In doing so, she can never return to land. She gives up her human life with him in order to save his. Which is bittersweet in the way only fairytales can be.
Possible Explanations
According to Ancient Origins, the word 'selkie' comes from the Scottish word 'selich'. They also theorise that early Scottish settlers married dark-haired Finnish or Sami women who often wore seal skins. From a distance, it might look like a seal removing their skin to appear human.
Some believe the selkie story comes from an era when health conditions were less understood. A clan in the Outer Hebrides had skin growths between their fingers. The resemblance of their hands to flippers strengthened their claim to be descended from selkies. Much like the changeling myth and fairies, people may have blamed selkies for abnormalities.
Carole G. Silver notes that in the 1890s, David MacRitchie thought Scottish settlers mistook Finnish or Sami women for selkies due to their sealskin clothing (2005: 97). Elsewhere, some believe the sight of a distant kayaker may have looked like a seal. If you saw them haul up onto a rock and take off their sealskin cloak, you might get confused about their true nature.
Or maybe, just maybe, they're real.
To answer the original question behind this post, no, selkies are not as dangerous as mermaids or sirens. While the male selkie has amorous intentions towards women, few stories see the women come to harm. In fact, they actively seek out his company. Instead, the female selkie is often the victim of male abuses of power, a gentle creature that loves her children but misses her home.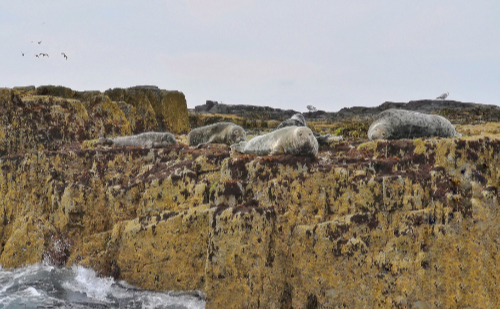 Jøn even suggests that Hans Christian Andersen might have encountered the selkie story while travelling in Scotland. Perhaps that explains the relatively good nature of the mermaid in The Little Mermaid, compared to the vicious, evil mermaids of folklore (1998: 97-98).
But after researching them for a while, I note how many stories claim the selkie power to bewitch humans. Even reading their stories has such an effect…
Let me know what you think below!
And if you're interested in mermaids and sirens, I have a sea witch short story you might enjoy. Click here to read it!
References
Jøn, Allan Asbjørn (1998), 'Dugongs and Mermaids, Selkies and Seals', in Australian Folklore: A Yearly Journal of Folklore Studies 13, pp. 94-98.
Silver, Carole G. (2005), "Animal Brides and Grooms: Marriage of Person to Animal Motif B600, and Animal Paramour, Motif B610", in Jane Garry and Hasan El-Shamy (eds), Archetypes and Motifs in Folklore and Literature, New York: M.E. Sharpe.
Nutty about folklore and want more?
Add your email below and get these posts in your inbox every week.
You'll also get my 5-step guide to protecting your home using folklore!