You wouldn't think something as humble as bread would have so much folklore attached to it. Yet many of us encounter bread folklore when we're young. I'm sure we've all heard the old wives' tale that eating your bread crusts would make your hair curly.
My primary school had a particularly draconic dinner lady whose desire to foist her own opinions onto children seemingly knew no ends. She felt it entirely appropriate to try and force my brother to eat his crusts. That said, given his own exceptionally curly hair, he wasn't sure why eating crusts would help at all. I managed to avoid such nonsense by taking bread rolls in my packed lunch.
But bread stretches back far beyond the 1980s, providing good luck, good baking, success in love, and even medicinal remedies. Let's investigate the folklore of bread in Britain!
Good Luck, Bad Luck
A 19th-century Scottish belief saw bread held in such high esteem that destroying it would invite want into your life. On a similar track, people believed throwing crumbs into the fire fed the devil, and invited bad luck (Opie 2005: 38).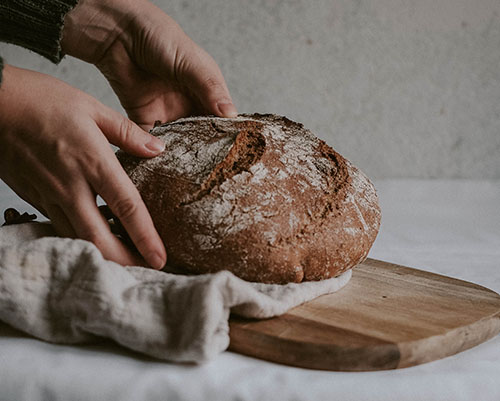 If a servant left her job and she'd done well, her mistress would hopefully give her some bread as she left. If she kept part of it, good luck would be hers as long as she had it (Opie 2005: 38).
Cutting the top of the loaf before the bottom meant you'd rise in the world (Opie 2005: 39). Hence… upper crust.
Crossed and Uncrossed Bread
You had to be careful how you handled bread before you baked it. For one thing, you needed to make the cross mark on your bread with a skewer, not a fork. As the saying went, "She that pricks bread with fork or knife, Will never be happy, maid or wife" (Opie 2005: 38).
Now, marking the cross on top of a loaf stops it from rising badly, so it's a design feature, not a religious advert. Surprisingly, in 1252, a mandate of Henry III forbade bakers to mark loaves with the sign of the cross (Opie 2005: 107).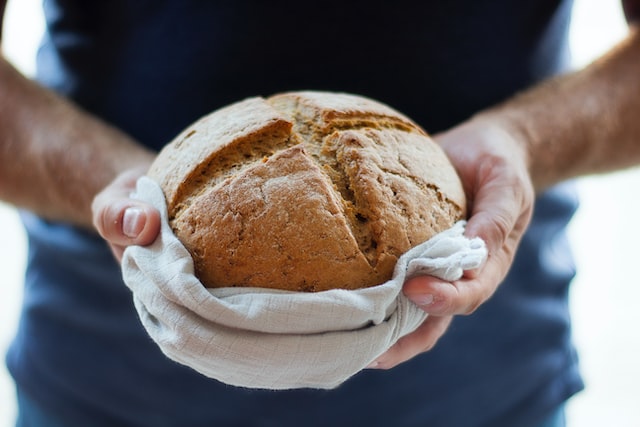 Yet in 1813, the tendency of northerners to make cross-marks on their loaves with a knife before baking them was considered "a remain of Popery" (Opie 2005: 108). By 1908, this was considered a way to "keep the devil out".
In Yorkshire, people made a cross with their finger, and it was called 'crossing the witches out'. If you forgot to do it, servants were convinced the bread would stick in the oven, or otherwise not bake properly (Opie 2005: 108).
In northern England, people would place the loaves in front of the fire to rise in the warmth, and they added crosses on them to stop the Devil from sitting on them (Opie 2005: 108).
The Devil Loves a Good Loaf
Speaking of the Devil and bread, there's an interesting legend from Dartmoor, part of the tradition of stories that explain geological formations through the Devil's actions.
There's a rock formation on a hill on Sourton Common known as Branscombe's Loaf. According to legend, Walter Branscombe was Bishop of Exeter in the late 13th century. His diocese covered a vast swathe of Devon and Cornwall.
One day, he and his chaplain traversed the diocese, but somehow got off the road between Okehampton and Tavistock. They got thoroughly turned around in the mist, and eventually, grew too hungry to continue. The bishop announced he'd give anything for a bite to eat.
Lo and behold, a stranger emerged from the mist. This old man held out some bread and cheese, his skeletal face no doubt ignored in the desperation to eat. The bishop had almost accepted when the chaplain stopped him; he'd spotted the stranger's cloven hooves. The Devil cried out in anger and dropped the bread and cheese, where they became the Branscombe's Loaf formation (Barber 1990: 9).
Protective or Healing Bread
Bread also had a protective side. If you fed your horse holy bread and holy water, no one would steal it. This was recorded in 1499, apparently advised by a witch in Suffolk (Opie 2005: 38).
Other people said that putting a holy crust of bread under the pillow would ward off hags and improve sleep for children. If you needed to carry your baby out of the house at night, then you'd put a piece of bread in its bib to protect it from evil (Opie 2005: 38).
By the 16th century, bread had become a healing item – you said only the Paternoster over it, made a cross over it, and then laid it on whatever ached (Opie 2005: 38).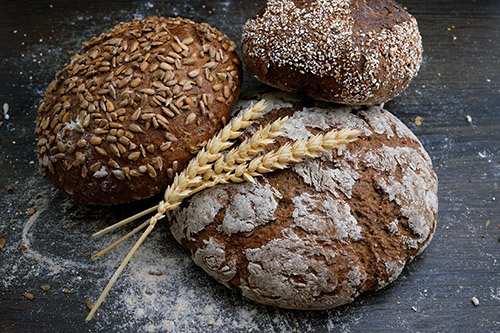 Indeed, people believed that bread baked on Good Friday had a range of curative properties and would never turn mouldy. While the bread did turn hard, various anecdotes relate the distinctive lack of mould. Hanging a hardened Good Friday loaf by the chimney would protect the house from fire. It could also be grated into water and drunk as a healing remedy, which was apparently a great cure for diarrhoea! (Opie 2005: 177).
And somewhat randomly, if a woman kneading bread rubbed her dough-covered hands on a boy's face, he wouldn't grow a beard (Opie 2005: 39).
Baking Practices
You had to be careful to break the first bread loaf taken from the oven. If you cut it, the other loaves in that batch would all be heavy (Opie 2005: 38). You should also never sing while you're baking, or you'll sour your bread (Gazur 2020).
In centuries past, people might find echinoid fossils, a common fossil found around the British Isles. Not understanding what they were, people assumed they were fairy loaves. Putting one by your oven meant the bread would all bake well (Gazur 2020).
Predictive Bread
If you broke open your loaf and found a hollow, it was considered a death omen in Lincolnshire, Worcestershire and Yorkshire. People even called it a grave. Yet in Pembrokeshire, it predicted a birth for the woman who baked it! (Opie 2005: 38)
This was also the case for cottage loaves. The baker would knock a dent into the top of the loaf before baking, and in some parts, if the dent was still quite deep after baking, it meant the baker's wife was pregnant (Opie 2005: 39).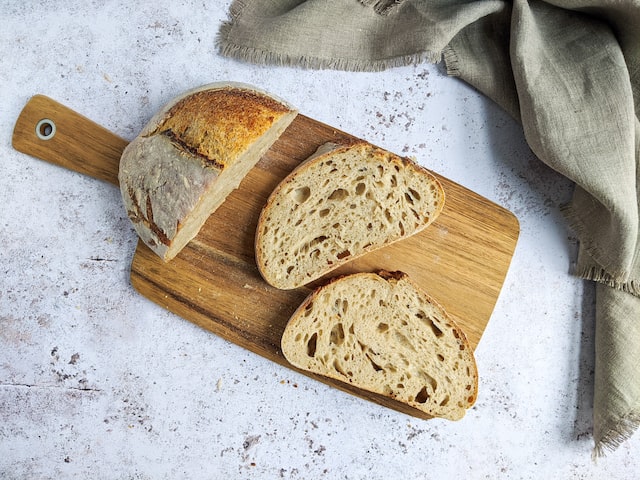 If a loaf broke in half while being cut, it predicted impending death. In one tale in Cheshire from 1879, a husband went to take the bread from the oven his wife had been baking. One of the loaves had a crack across the top, so he knew something had befallen his wife. Unfortunately, the book doesn't specify what befell her (Opie 2005: 39).
This even applied to other baked goods. If your Christmas pudding broke as you turned it out of the basin, it meant one of the heads of the household would die (Opie 2005: 39).
Overturning a loaf of bread in the oven meant a death in the house. In coastal regions, doing so meant a ship would be wrecked. Turning a loaf upside down also meant you'd turn someone out of the house (Opie 2005: 39).
Four loaves that stuck together in the oven meant a wedding would happen. Five loaves doing so meant a funeral (Opie 2005: 39).
Bread and butter even ended up with its own predictive abilities. If you had both bread and butter and cake on your plate at the same time, it heralded a wedding. And if a woman took a second piece of bread and butter before she'd finished her first, she would soon be married (Opie 2005: 39).
Bread for Love
Looking for love? Ladies in Lincolnshire could take communion and hide the bread in their mouths. They'd go home via a churchyard and spit the hidden bread at a toad. If the toad ate it, then the man she wanted would be overcome with desire for her (Gazur 2020).
Alternatively, you could make cocklebread, which involved climbing onto the table, gathering up your skirts, and then wobbling your bum as if you were kneading dough with your buttocks. You'd say "My Dame is sick and gone to bed, and I'll go mould my cocklebread" as you did so (Gazur 2020). Whether this derives from a time in which women really did knead bread with their behind remains to be seen.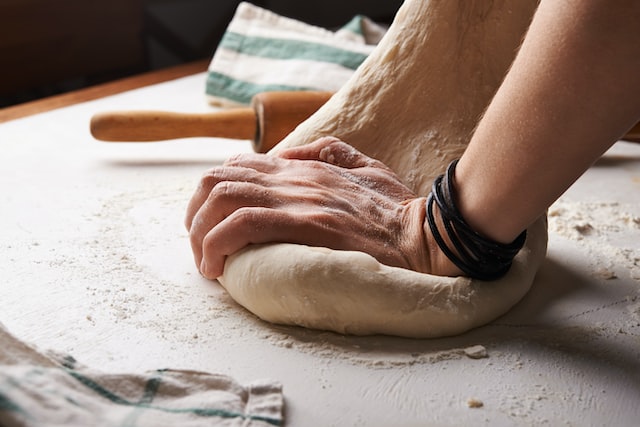 There was also a belief that you could make a loaf known as a "love cake". You rubbed the dough over your body before you bake it, and the inclusion of your sweat would make them fall for you. Apparently.
Bread and Death
The practice of sin-eating was apparently very simple. Mourners passed bread over the body of the deceased. Sometimes they might place it on the corpse's chest. Either way, it was believed to absorb the sins of the deceased. By eating it, the sin-eater took on that person's sins.
Writing in the 1680s, John Aubrey wrote about a remainder of the custom in Oxfordshire: "where at the burial of every corps one cake and one flagon of Ale just after the interrment were brought to the minister in the Ch. porch" (1881: 24).
Aubrey also noted the practice in Herefordshire, where mourners would "hire poor people" to take on the sins of the deceased. They passed a loaf of bread and a bowl of beer over the corpse after it was brought out of the house. The sin-eater ate the bread and drank the beer to take on the dead person's sins. This "freed him (or her) from walking after they were dead" (1881: 35).
There has been some debate as to whether sin-eating was a genuine practice or not, something explored further in my article on sin-eating.
Bread wasn't just used to cleanse the sins of the dead; it could apparently be used to find them. Folklorist William Henderson relates a legend from northern England that claims a way to find bodies discarded in rivers. Take a loaf of bread, make a hollow in the middle, and place quicksilver (mercury) in it. Float it on the water, where it should head for the body and float above it (1879: 59).
What do we make of the folklore of bread?
Some writers try to link the use of bread with the Sacrament, but I feel like this is somehow too obvious. People have been baking different forms of bread for thousands of years. I can't help thinking it appears in so many ways because it's one of the few items that would be common in every household, regardless of income. Besides which, no one would raise an eyebrow at you baking an extra 'love loaf' since baking was also so commonplace.
Its links with healing and protection are slightly harder to fathom. Perhaps its links with Christianity do play a part here. Or again, perhaps its general ubiquity confers special powers. After all, hanging a loaf you baked on Good Friday to guard against fire is a lot more accessible than some of the other remedies. You can find out more about those in my guide to protecting your home, according to folklore!
Or maybe humans just really like bread…
Which is your favourite bread folklore tidbit?
References
Aubrey, John (1881), Remaines of Gentilisme and Judaisme, 1686-87, London: W. Satchell, Peyton and Co.
Barber, Sally and Chips (1990), Dark and Dastardly Dartmoor, Exeter: Obelisk.
Gazur, Ben (2020), 'The Folklore of Bread', Ben Gazur, https://www.bengazur.com/post/the-folklore-of-bread.
Henderson, William (1879), Notes on the folk-lore of the northern counties of England and the borders, London: Pub. for the Folk-lore Society by W. Satchell, Peyton and co.
Opie, Iona and Moira Tatem (2005), Oxford Dictionary of Superstitions, Oxford: Oxford University Press (affiliate link).
Nutty about folklore and want more?
Add your email below and get these posts in your inbox every week.
You'll also get my 5-step guide to protecting your home using folklore!